Drip of the Week: Gywn DeFeo
Coming back to school from a long break is always a struggle to get up in the morning and get ready for school. And finding the perfect balance of comfort and style can be rough, especially when transitioning from a week of online school where practically anything goes. Gywn DeFeo, Junior, is always someone who knows how to balance style without losing comfort.
---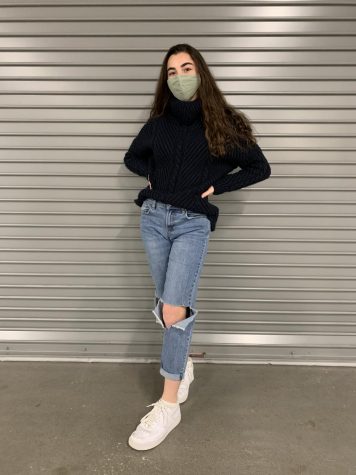 Monday
To start of the week, Gwyn just wanted to be "Fit and Comfy" because while she wanted to be comfortable for the first day back from break, she still wanted to look cute. She paired a dry-knit, chunky sweater with some traditional, ripped jeans. Some Christmas Socks are hidden by white Nike Air Force 1s. And a green mask to accessorize.
---
Tuesday
Today Gywn has on an outfit that can only be described as "a college student trying to make it look like they put themselves together before a morning exam." To achieve the effortless professionalism, Gywn has on a comfy pair of pains paired with a forest green knit-sweater. Then just a pair of black vans which Gwyn deems as a staple for any basic, but cute outfit.
---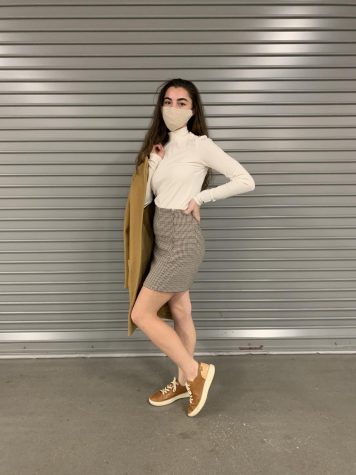 Wednesday
For a very cute, put-together look, Gwyn started forming her outfit around her favorite skirt, a hounds tooth pencil skirt. Then to compliment it she is wearing a cream shirt with gold button accents on the shoulders, and a tan wool coat. Then to finish off the outfit, she is wearing some very unique shoes that are the perfect mix of "Being nice and functional because of how they are like sneakers but they still look nice." Personally, I could easily see this being inspired by Anne Hathaway from the movie, The Devil Wears Prada.
---
Thursday
Like many others, Gwyn decided to wear a sweater to celebrate a song which depicts the date, December 3rd. The popular song, "Heather" by Conan Gray, has inspired people to all dress as a character, Heather, depicted in the song by wearing a sweater. After choosing the sweater, Gywn used a trick to disguise a jumpsuit as pants by layering and rolling said sweater above the jumpsuit. Then to finish off the outfit she threw on the same brown shoes from Wednesday's outfit.
---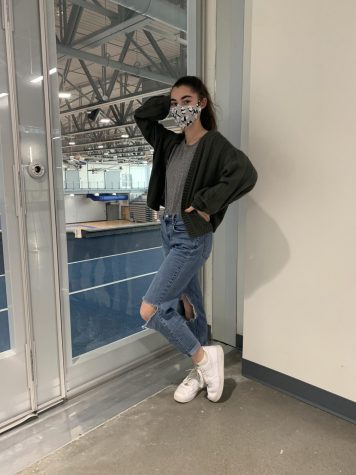 Friday
To finish off a long week, Gwyn is wearing basic jeans, a comfy sweater, tee and classic air forces. The loudest part of her outfit, however, is her mask featuring her favouite animal, pandas. Today's outfit was basic, comfy and cute all at the same time.
---
The best ways to describe Gywn's style has to be classic, comfy and just plain cute. I think she embodies the energy of wanting to look cute but not wanting to be uncomfortable throughout the school day. Even after coming back to school after the break she still knows the perfect way to show off her adorable style.
Leave a Comment
About the Contributor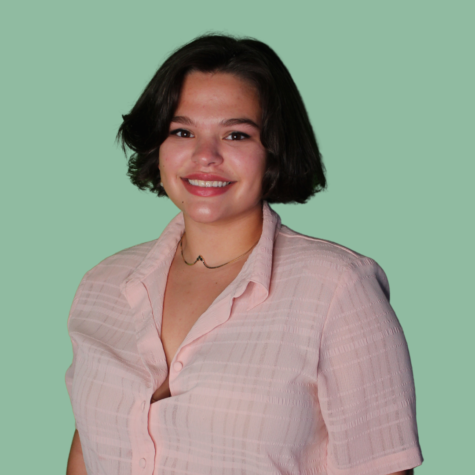 Katelyn Smith, Plume Staff
Katelyn Smith is a current senior at Capital City High School and is the President of the Gardening Club along with being an active member of NHS and the...