Soph's Opinion: The Top Ten Christmas Cookies
Which Cookie Crumbles Under the Weight of Christmas?
Christmas is almost here! Trees are decorated, the Christmas Station (KPLA) is being played in every classroom before class, downtown Jeff City has their wreaths and lights out, and all the Christmas feels are starting to come together. There are some common Christmas traditions that haven't been started yet, and one of those being: making Christmas cookies. Christmas cookies are a staple, and my family always receives at least 3 boxes from families giving as gifts. I am here to give my opinion, on what Christmas cookie you should immediately grab from that gift box, or make on your own to spread cookie joy to others.
Santa's Favorite Cookies
 Chocolate Crinkles 
 Peanut Butter Blossoms 
 Sugar Cookies with Royal Icing 
 Andes Mint Chocolate cookies
 Raspberry Thumbprint cookies 
Santa's Trash Cookies 
Eggnog Snicker Doodle cookies 
Peppermint Meringue Whips
White Chocolate and Cranberry cookies 
1. Santa's Favorite Cookies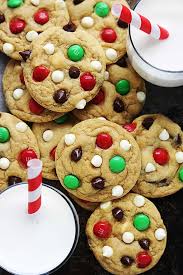 This cookie, is supreme. This cookie is love, Christmas cheer, and snuggling up with your dog in front of a fire and your favorite Christmas movie. Santa's Favorite Cookies have white chocolate chips, milk chocolate chips, red and green M&Ms, and vanilla pudding mix. The vanilla pudding mix gives the cookies a rich vanilla and buttery taste, while the chocolate chips pack the cookies with warm chocolate, and the red and green M&Ms give a Christmas color. I highly recommended these cookies, they are always the first to go in my own house, while they are also the first to go when we give our plates of Christmas cookies to neighbors and friends.
2. Chocolate Crinkles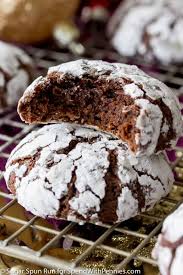 I LOVE these cookies for two main reasons: they are VERY easy to make and don't take a lot of time, and they taste just like brownies but in a cookie form. These cookies are made out of chocolate cake mix, and you make them just like chocolate cake. You just plop them in a cookie form on a cookie sheet, and bake them. My best friend and I have made these cookies in less than an hour, and we take multiple hours to do anything. These cookies are all chocolate, and taste like fluffy brownies topped with warm powdered sugar.
3. Peanut Butter Blossoms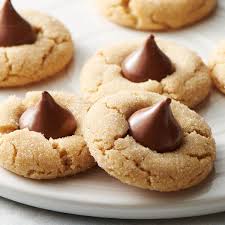 I will be honest, I have never tasted these cookies. Yes I know, you are thinking "Sophia, how can you judge a cookie if you've never tasted it?!," but I have heard from various amounts of people that these cookies are amazing. I also have a nut allergy (if you read that, no you didn't). There is even a bag at the store, making these cookies easy to make, and you can also just grab a bag of Hershey's kisses to plop in the middle, making these cookies relatively cheap if you have the other ingredients needed just laying around at your house. Multiple people have said that these cookies taste like Reese's Cups, with the peanut cookie that mixes with the warm chocolate after a bite. I would high recommend if you love Reese's, but would not recommend if you have a peanut allergy and go into Anaphylactic shock. (I wouldn't know from experience.)
4. Sugar Cookies with Royal Icing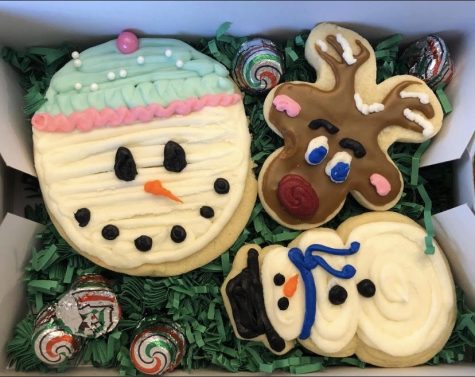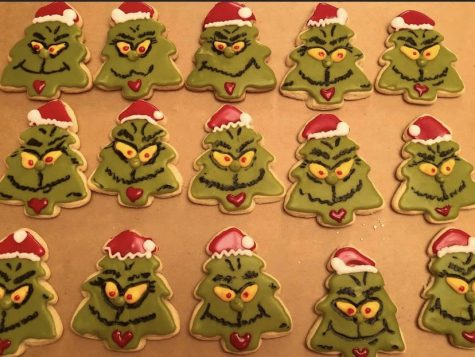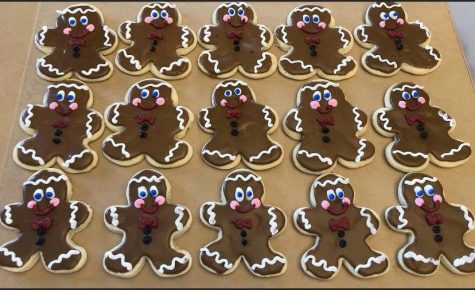 Up above, you will see some beautiful Christmas sugar cookies, with royal icing made by my wonderful mother who can fulfill any of your cake and cookie needs @Gulity Confections JC (Your welcome for your promo, Kim). These cookies are always fun because you can decorate them however you would like, and you can cut the dough into lots of different shapes. Decorating these cookies are always a fun activity my sister and I like to do together, and we always have competitions between who has the best decorated assortment. The cookie's vanilla and almond flavor paired with a smooth vanilla icing and sprinkles always are a great treat. The reason why I didn't place these cookies higher up on the list, is because sometimes people can make these cookies dry and crumbly, which isn't exactly fun to eat.
5. Andes Mint Chocolate Cookies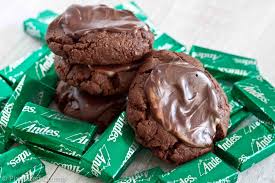 I love these cookies. My neighbor Melanie, gave this recipe to my mom, and we have been making these ever since. Thank gosh for Andes and Melanie. This cookie is a beautiful mix of chocolate and Andes mints. Not everyone likes peppermint or mint flavor in general, but if you are looking for a cookie that is light, minty, and chocolatey, you have found the right one. I most definitely eat these cookies the most, and a plus is the mint makes your breath smell good. A nice mint while eating a treat, the best of both worlds.

6. Raspberry Thumbprint Cookies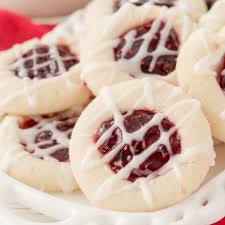 Raspberry thumbprint cookies are a good alternative cookie if you are looking for something that isn't so chocolatey or something so dense and rich like the Santa cookies. The raspberry in the middle is warm and light, and paired with the almond flavor of the cookie around it makes this cookie a good find. This cookie is okay, but I prefer chocolate over fruity flavors.

7. Santa's Trash Cookies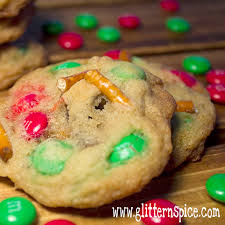 I am not much of a salty and sweet type girl, but I know lots of people who are. These cookies are buttery, chocolatey, and salty. The red and green chocolate chips give beautiful color, while the pretzels give a nice crunch. I don't particularly think this cookie is something special, but the crunch of the pretzels mixing with the nice chocolate gives a different texture than most of the other Christmas cookies, which can be more soft or gooey.

8. Eggnog Snicker Doodle cookies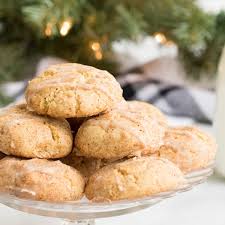 These cookies can only be describes as mediocre at best. These cookies are always dry, no matter who makes them, and the only taste is dryness and cinnamon. The eggnog is very low laying, and the cinnamon added is almost always over powering. I don't recommend taking these cookies first, but if you are desperate for some cookie, this is the dessert for you. I would recommend however, to people who really like cinnamon, or a snicker doodle type cookie.

9.   Peppermint Meringue Whips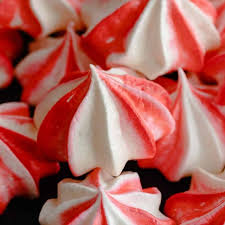 I have heard from multiple people that Peppermint Meringue cookies are alright, but always seem to be made by everyone. I wouldn't know from experience because I have a egg allergy as well (If you read that, no you didn't) and I haven't tried these cookies. My best friend's mom always makes them around the holiday time, and whenever I come over with our other friends all of them are almost gone. However, I have heard from others that these cookies are crumbly and kind of taste like toothpaste, and they shouldn't even be taken time to make. These cookies are ranked so low because I've talked to some people who think they are just 'eh', while some people say they just suck.

10. White Chocolate Chip and Cranberry cookies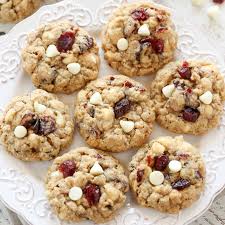 These cookies are ranked last, because they aren't good at all. Period. It doesn't matter who makes them, how soft and fluffy they are, no one can help these cookies taste good. First off, the only source of chocolate is white chocolate, which tastes like weird chalk and isn't even a real chocolate. Then, when you think it couldn't get worse, you take a big bite of dried cranberries. The worst. No one likes dried cranberries, and no likes white chocolate chips unless they are muddled with other sources of chocolate. This cookie should be abolished, and it doesn't represent Christmas at all. This cookie is the cookie that has been sitting in the box since the week before Christmas and it's January 5th, and you just want some sugar but you decide to grab this cookie that innately looks crumbly and old and ugly. And dry.
---
I hope you enjoyed my ranking of the top ten Christmas cookies. This was a tough list to make, considering that everyone makes all of their Christmas cookies differently. Some cookies just don't crumble even if their bakers over bake them, or leave an ingredient out. I hope everyone's Christmas is very bright, and you can enjoy some lovely cookies next to your tree or with your family!