Holla for Ayala
An athletic feature of baseball player, Mr. Carlos Ayala
Emily Hotz, Contributing Author (Capsule Yearbook)
April 19, 2021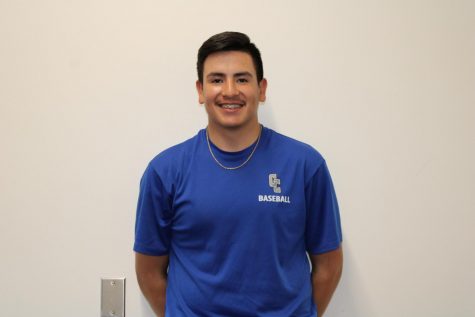 The Capital City Baseball team threw their first pitch of the season a few weeks ago and for the first season in program history, excitement is high. Here is an interview with Varsity player, Carlos Ayala who is all about that base. 
Q: Is it disappointing to not have large student sections at games? And is it nice to have your Carlos Ayala fan club there? 
A: "Of course it is. You would like having larger groups of people. It's understandable not having a lot of people at them due to COVID regulations and not being a full school yet. [In regards to the fan club] Yes, it gives me that extra motivation to play. It makes me feel good to have my fans supporting me."
Q: Why do you play baseball and how long have you been playing? 
A: "I have played baseball since 1st grade and I really enjoy the game. I enjoy how technical the sport is. I personally think it is the toughest sport to play, and I know everyone says that, but I'm actually telling the truth."
Q: What's your favorite thing about playing baseball? 
A: "I would probably say playing as a team. When you have supportive teammates it makes it really fun. Hitting is also pretty dang fun too though and always feels good to do."
Q: What positions do you play? 
A: "I play pitcher, 2nd base, and 3rd base. I like pitching the best as it allows you to have control of the game."
Q: How are you guys doing this season despite all your obstacles? 
A: "Our season was cancelled last year so it was a huge disadvantage. This is our first actual season of varsity so the more games we play the better we will become… hopefully. So I think all things included, we are doing well."
Q: Is it difficult to play sports and keep up with schoolwork? 
A: "When you have days that are just practice, it isn't bad but when you have games, you get out so late and you don't want to do anything but sleep. So despite that, it's not too bad."
Q: What do you all do on the way to and from the games? 
A: "On the way there, we all normally put our headphones on and get mentally ready for the game. On the way back, the team gets out their excitement from the game and it's kind of just a team bonding."
Q: How do you all plan to get better as a team? What about for yourself personally? 
A: "We need to work together and work hard during the off season and come back together next year as a full team ready to win. I will get the weight room time in and focus on the fundamentals during the off season."
Q: Which team are you most excited to play? 
A: "The easiest one. I actually was most excited to play JC and while it wasn't good for us, it was the most fun. There will always be a rivalry between the two schools and that is here to stay."
Q: What has your favorite memory been from baseball this year? 
A: "I really enjoyed seeing the first home run hit for CCHS. Shoutout to my boy
Tag."
The baseball season is still in full swing, so make sure to come and support the team this season.