Soph's Opinion: Ted Lasso on Apple TV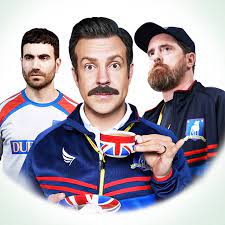 I recently finished a show called Ted Lasso on Apple TV with my family. When I first came to hear about this TV show, my dad was ranting and raving about it. He said he watched it all in one night, and stayed up until 2 am to finish the series. I was first skeptical of what my dad was talking about, because sometimes his TV show opinions can be a hit or miss in my heart (sorry, dad). Sometimes the TV shows will be so odd and weird that I make it in five minutes, and I can't imagine why someone would ever choose to watch it, let alone watch it multiple times and can quote characters' lines. However, sometimes my dad hits it out of the park on TV shows that are worth watching and loving, like The Office (which I now quote on the regular) and Breaking Bad. Both of these shows have a special place in my heart, and they're even more special to me because I can look back on the countless hours that my dad and I spent on the couch together watching, laughing, and crying. Even though I was skeptical of the 'family' show my dad picked for our little family movie night, I gave Ted Lasso a try. And in my opinion, Ted Lasso is the newest TV show that deserves all of your tears, laughter, and family TV time, and will earn those awards over and over again in your heart.
The plot that my dad explained to me, was that an American football coach, played by Jason Sudeikis, was hired in England to coach football. Now, of course this idea being explained seems incredibly one-dimensional. In England, "football" is "soccer" to us United States folk, and the plot of the show just seemed BORING in terms of what I normally watch. (The Office, Great British Baking Show, Cheer on Netflix, you get the point). I had also never seen anything with Jason Sudeikis, but had heard the name before. However, as the show goes on, you find out that Ted Lasso is anything but one-dimensional. The show deep dives into viewers watching an American coach, figure his way around a brand new sport, with brand new players and individuals, and life as a father and as a husband.
As you begin the show, you are introduced to the American coach Ted Lasso, who is often the punchline of jokes stemming that he is way out of his depth in the sport. Ted has no idea anything about football in the UK, and doesn't know that football can end in a tie, which is life changing to him. Ted has an assistant coach sidekick, Coach Beard, who tags along, and is just as funny.
Ted Lasso was first hired under the soccer ledge's owner: Rebecca, played by Hannah Waddingham. Rebecca had gone through a messy divorce with her husband who was the original owner of the sports club. Rebecca is seen as having a chip on her shoulder in the beginning, and wanting to tank the sports club, because it was the only thing her ex-husband could actually love. The only issue with Rebecca's plan- that Ted Lasso is the person that anyone and everyone always to aspire to be in life. Ted Lasso is the Mr. Rogers, the Robin Williams, the Keanu Reeves of life. With what lack of understanding about everything in the UK, like the sport he's coaching, the road directions, tea, carbonated water and more, Ted Lasso makes up in his ultimate kindness and optimism. The kindness and optimism of Ted Lasso, infects the entire sports club. It's almost infatuating to watch the series, because you can't stop watching someone so positive on screen.
Normally, you watch sports shows that feature horrible, mean, screaming coaches who manage to get their athletes to the Olympics or the athlete fulfills some ungodly standard in sports. I HATE those shows. Like the one basketball movie with Ben Affleck. The coach played by Ben LITERALLY had a drinking problem and would often lash out at the poor kids on the team who just didn't deserve his harsh crap. I know what pushes me and motivates me in sports, but sometimes I just don't need to watch an entire documentary of a coach always screaming at their athlete to do better, because most of the time it just doesn't work like that and the child looses it and drops the sport entirely. The one factor that is so addicting about the Ted Lasso series, is that Ted Lasso is the most kind and positive person you could ever dream for a coach. Ted Lasso wins over everyone on the team in in the UK, but also wins over every viewers heart. The coach reaches the heart of the grumpy, old, legendary player that never even cracks a smile the entire show to the most annoying character featured who believes he is God's gift to the world. Ted Lasso gives biscuits every morning to Rebecca who's main goal throughout the show was to ruin the sports club and take down anyone else in the club, regardless of who was managing. Ted Lasso hangs up the stereotypical 'Believe' sign above the locker room door for all of the players, and gives his struggling athletes toy soldiers that his son sent him, as a reminder to keep fighting for their dreams.
Ted Lasso, is anything but a one-dimensional TV sitcom. The show tackles hard concepts and life experiences, that we all face today. From issues like Ted's ongoing divorce, to being away from his son for months at a time, the cocky, God's gift player named Jamie Tartt, who struggles with a toxic parent, to the old and grumpy player Roy Kent who struggles with keeping up with the team due to old age, and being on the tail end of his career. Ted Lasso often quotes the saying "Be a goldfish", when his players have a tough loss, which I originally thought wasn't the best saying. I think if my coach ever came up to me after a loss and said to "Be a goldfish," I would turn around and smack them. However, by the end of the few episodes, I definitely cried after the heart wrenching losses of players and members of the team, and Ted Lasso mentioning to the remaining athletes to "Be a goldfish". Ted Lasso shares the true message of sports- watching the development of a family and a player through their athletic career on a sports team, cultivated by a wonderful coach who gives their players all of their heart, even when it's difficult themselves to go out on the field.
Down below: The trailer for Season 2 premier of Ted Lasso!! But first, go watch season 1!!