Soph's Opinion: Mr. Miriani's Fits for 5 Days
Y'all already know the drill. WE ARE BACK with a new Soph's opinion, featuring Mr. Miriani, who is said to be one of the best teacher's in the school with the best drip. We look into if those rumors are true, and what Mr. Miriani wears for 5 days out of the school week.
Disclaimer: This Soph's Opinion was done in secret, and all photos were taken without Mr. M knowing ANYTHING.
Day 1: 4/10
Day one, and we are starting off kind of mediocre, I'm being honest. Mr. M NORMALLY, has some pretty fire fits. But today, I can't even explain what's going on in the outfit. Mr. Miriani is pictured wearing a yellow and black flannel, with a bright blue 'stronger together' CCHS shirt. In addition to the weird color combination, Mr. Miriani is also wearing grey(ish)-blue khakis, and some L.L. Bean hiking boots. The fit just ain't it. The flannel in no way, shape, or form matches the bright blue CCHS shirt, or the khakis. Don't get me wrong, the khakis are actually nice! I do like the color, but paired with his L.L. Bean hiking boots and bright blue and yellow, makes me just disappointed. I'm just so confused why the shirt was paired with the flannel. However, maybe Mr. M will do better with tomorrow's fit.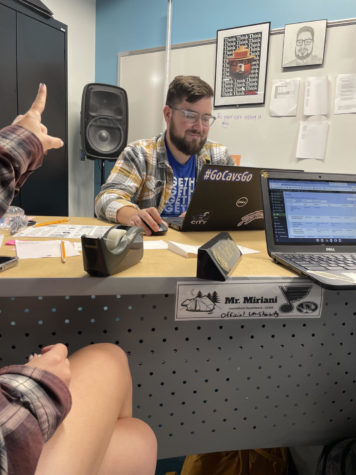 Not pictured: Grey(ish)-blue khakis, L.L. Bean hiking boots
Day 2: 5/10
Okayyyy! We are making some progress considering yesterday's fit looked like Mr. Miriani couldn't pick between dressing up as a blueberry or a lemon. Day two's fit exudes granola boy, who loves going and hiking around a nice, forest. Pictured, Mr. Miriani is wearing a comfy blue and dark green flannel (flannel again?), navy khakis, and the AWFUL PAIR OF BOOTS I HAVE EVER SEEN. The whole outfit was actually nice! The navy khakis match the green shirt perfectly, until you look down at Mr. M's boots, which have an American flag trailing up the side, and the main part of the boot is brown. I don't understand how one picks out such a nice, comfy, matching outfit, and decides to PAIR IT WITH COWBOY BOOTS. I am giving Mr. Miriani some grace though, because I can overlook the boots as long as I don't have to look down.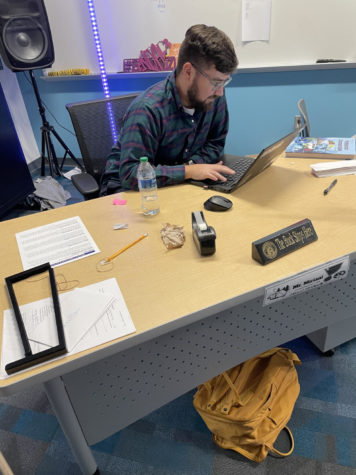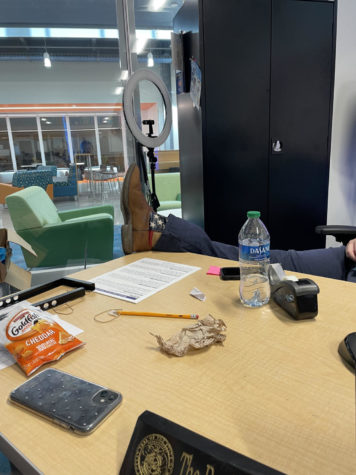 Day 3: 7.2/10 
What is going on…I really thought Mr. Miriani was one of the best dressed in the school. AND I WALK IN TODAY AND MR. M IS WEARING MF COWBOY BOOTS. I really thought we were going to have a good rating today, and I look down and I see the horrid, (probably haunted) cowboy boots featured in day 2. Mr. Miriani is pictured having a nice zip-up with CCHS blue and silver, and a nice pair of blue jeans that match nicely with the zip-up. I'm really sad to say that this fit only gets a 7.2. If Mr. Miriani would have worn any other pair of shoes, like Vans or AF1's, this fit would have gotten such a better rating. However, Mr. M later wore a bright blue boa, sourced from Motivational Hustlers, in class, which really made the outfit.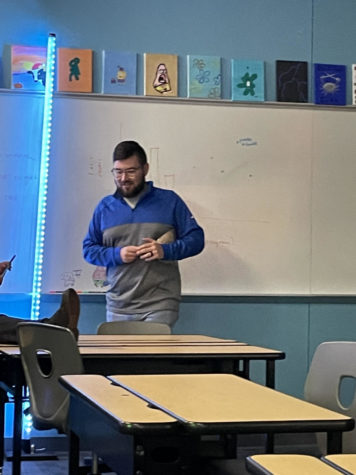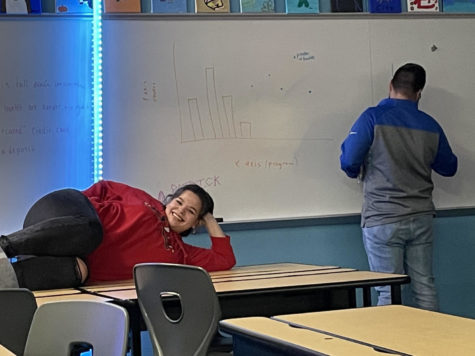 Day 4: 8/10
YUHHHH! Progress!!! Let's goooo! Mr. Miriani's fit is pretty good for day 4! Mr. M is popping out with a bluish-green colored, fluffy button up, with navy khakis (the navy khakis go hard), and the dreadful cowboy boots. At this point, I really don't think we are going to be able to get rid of the cowboy boots, so I'm just going to just ignore the fact that they exist. I really do enjoy this outfit (other than the cowboy boots). The khaki pants go hard, and the blueish-greenish shirt looks very comfortable and warm. However, navy and blueish- green really don't match at all now that I come to think of it. To be specific on the color of the shirt, Mr. Miriani did some research during class and discovered the HEX code color is 196376, if anyone else was wondering. I just see blueish-greenish, but whatever.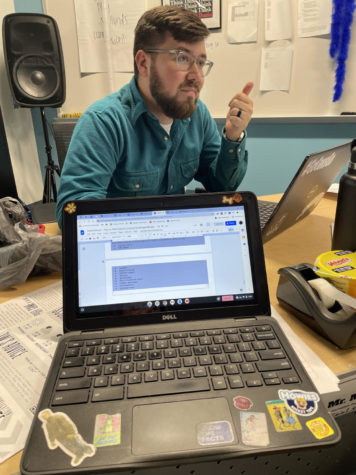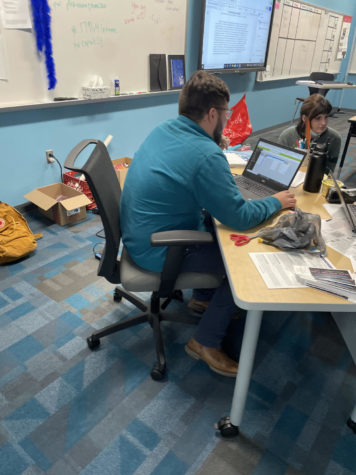 Day 5: 10/10
YUHHHHHHH GO CAVS GO! Last day, and this day goes HARD. We are celebrating day 5's fit! You know why sweet, sweet reader? BECAUSE NO COWBOY BOOTS WERE WORN TODAYYY! Mr. M is popping out with some jeans that are a light blue wash, a CCHS basketball zip up (beautiful blue), and some white Reebok Club C tennis shoes. I'm just so happy that the cowboy boots aren't being featured for the final day. The top and bottom actually matches for day 5, and I am so proud of Mr. M and his matching abilities. We have come so far. From day 1, not being able to pick between dressing like a blueberry or a lemon, to not wearing cowboy boots at all and wearing some CCHS merch.