Soph's Spouts: December Thoughts
Soph's favorite things for the month of December :)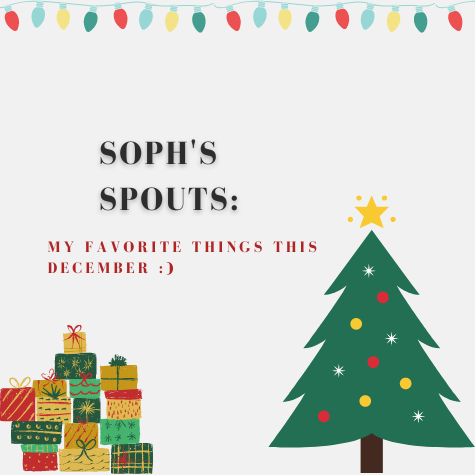 I really love a lot of things. Most of the time, I'm pretty sad. But for some reason, I've been just having a little joy-ride in life, and have been thinking of the things that bring me the most joy and happiness. I could go on and on for hours about random topics that make me happy, but I combined a few of my very FAVORITE things that I've been obsessed with for the month of December! Let's jump in 🙂
 The raves: 
Listening to Christmas music with best friend Emmy @ WPIA
Working out in socks
Peppermint mochas from Starbucks
Poetry on TikTok
Synthetic division
Listening to Christmas music w/ best friend Emmy at WPIA 
As many of my close friends + family members know, I work at the Washington Park Ice Arena (also known as WPIA). WPIA, is a pretty decent place to work at! I love working at WPIA during 2 specific seasons, summer and Christmas time. You can't really beat summer WPIA. It's obviously summer, and everyone is such in a good mood! It smells like summer outside, there's beautiful sunsets, and our coworkers normally go out to eat after work shifts. There's absolutely no one who wants to skate in the summer, and some of my best work memories have come from the LONG hours of having absolutely nothing to do on my shift. However, Christmas WPIA, is also a beautiful time. I HATE the amount of people that come to skate. I will be running around for HOURS, and it always seems like we are understaffed. No joke, my manager was talking to me recently about how if we DID have a capacity limit on the amount of people who could be skating, we were long passed it at our Saturday session. However, I love running around and the shift hours flying by. I swear. I'll be making 98 peppermint hot chocolates and suddenly, omg! My shift is over! I love all of my friends/ coworkers at the rink. I normally am working with the same few people each shift, and one of my closest best friends is a lil' kid named Em. We both love Celsius, and one of us always makes sure to bring the other one a Celsius if we see each other on the schedule. Em and I are both student athletes, and both of us normally have hours of homework to do while we're on shift. After all of the public leaves and we clean up a little bit, Em and I love blaring her Christmas Spotify playlist and doing our homework together for the rest of the few hours we spend together. I don't get to see Em a lot (she goes to JC), so each time that I get to work with Emmy, I love. We both are super close, and at this point can finish each other's sentences. We also highly recommend BIG DADDY XMAS LIST on Spotify for the best Christmas songs. WPIA is constantly also playing 101.5, which is typically the main Christmas streaming station in town. We do NOT have our Christmas decorations up yet, which does make me sad. 🙁 Pictured below, Sophia with her yogurt in summer, and Sophia and Em at work together <333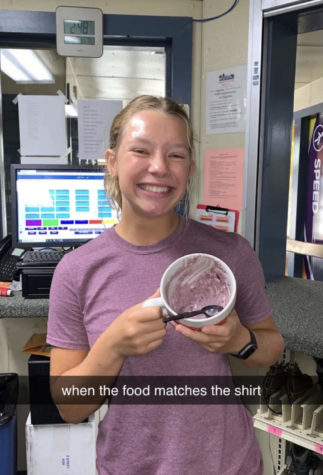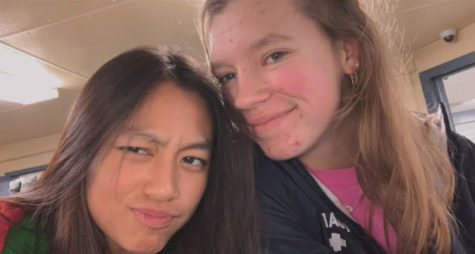 Working out in socks
I LOVE working out. I really can't go a day without doing a workout with my best friend (Em or Melanie), or working out in weights before cheer. You figure out certain and weird things about yourself when you workout a bunch, I think. Like I know, that I really HATE having fabric on me when I workout. I can't workout in leggings or in sweatpants, I legit have to only have on about Spandex and a rolled up tank-top. I also have recently figured out, that I love working out in socks. I know, it's not really sanitary. But I LOVE it. My most loved shoes are Converse Chuck Taylors, Vans, and Air Force 1's. I love these shoes so much, because there's little to no arch support. I hate feeling like there's a lot underneath me when I'm lifting or doing a lot of weight intensive workouts. Socks are perfect! I don't have to worry about constantly tying my shoe strings, and most of my socks have cute little animals I like to show off. Although I get some weird looks when I workout at the Linc with no shoes, (I make sure to wipe off every square inch of the place my feet have been with cleaner and wipes), my workouts go PERFECT. Absolutely love it, and will continue to workout with close to nothing on. Pictured below, the very loved Air Forces that Sophia wears pretty much everyday, everywhere.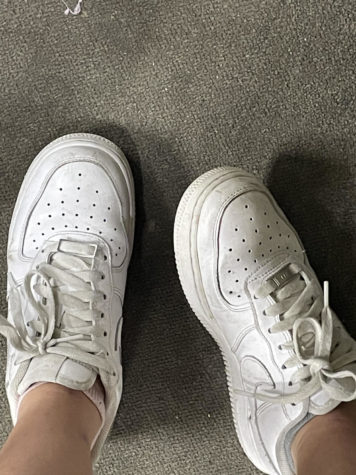 Peppermint Mocha's from Starbucks: 
Good God, how I could go on for HOURS about peppermint mochas. First off, I love coffee. Although peppermint mochas aren't really classified as coffee because they're so sugary, I still love them very, very much. My mom has a best friend who she's grown up with named Melanie, who is practically another mother to me. My mom and Melanie go black Friday shopping together each year, and recently added me in to their tradition. Before the shopping begins, we all go to Starbucks and get peppermint mochas. I make sure NOT to drink any holiday themed drinks without my 2 moms, and waiting until we're all together in the car listening to our Christmas music with our mochas makes it so much sweeter. The drink itself is FIRE. A classic holiday drink that you can't go wrong with! I've heard mixed emotions about the iced sugar cookie latte, but I know my peppermint mocha will forever be #1, and no one can ever complain about the G that it is. I mean, look below. Even Brittney loves a good peppermint mocha around Christmas time.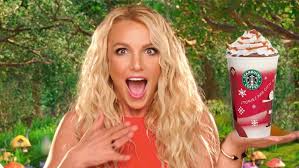 Poetry on Tik Tok
Okay, hear me out. I really, really hated poetry for the longest time. And I would hear my friends talk about poetry and how beautiful it was, and poetry used to be like tea for me. Let me explain. I hated herbal tea. Hated it. Wouldn't drink iced tea (still won't, don't even put that crap next to me), wouldn't drink hot tea, nothing. But suddenly, I woke up and decided I loved herbal tea (Well, some herbal teas. We're gettin' there. Day by day). Poetry was like tea. I hated poetry, until one day, I got a page from Rupi Kaur's Milk and Honey. Good Lord, is his poetry absolutely beautiful. I now follow like 20 poetry accounts, have requested every book Rupi has ever created for Christmas, and will spend at least 45 minutes a day reading poetry. But just on TikTok! It's become one of my favorite things to do, and I don't even feel guilty for being on TikTok, because technically I'm reading. Just ya know. In a different way. Pictured below some of my favorite poem from Milk and Honey. <3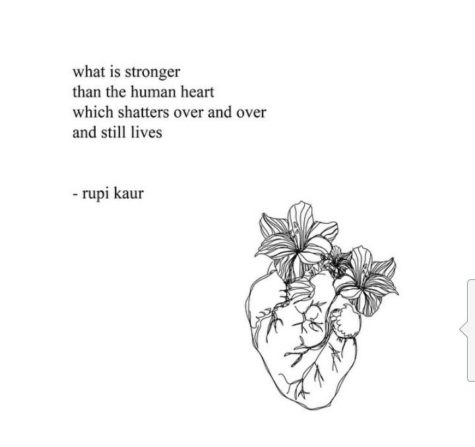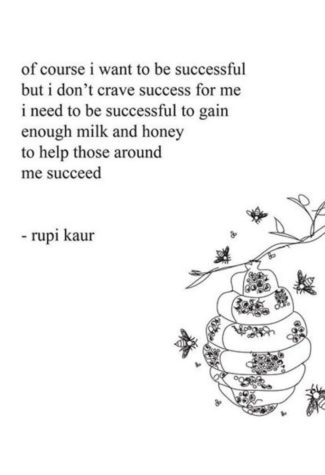 Synthetic Division
Ya girl, is tryin' to be a nurse. Or go into the medical field. As we know, the medical field is primarily (who am I kidding, it's literally all math and science) very math and science based. Ya girl, doesn't do that great in math. I've had an aversion to math since a very, very young age. Like when I was in third grade, instead of doing my number lines, I would sit under my desk and read during the entire math lesson. I still struggle in math to this day, and just choose to ignore the fact because, again, ya girl wants to be a nurse. I'm really not in a terrible math class! I'm in college algebra, and it really hasn't been kicking my booty until I reached the graphing unit and proceeded to get a 51 on the test (so sorry Mom, and Mrs. Madsen). However, our recent unit was my FAVORITE. I LOVE synthetic division. I legit LOOKED forward to doing my math homework each day of the unit. Bro, it's like… addicting. To have math be easy AND fun?! I legit did so GOOD on my math test (big girl flex), and felt so smart. I mean it's synthetic division, but an A is an A baby. Academic validation is like crack. Is rewarding, but kind of derails your mental health to the worst degree. Pictured below, is a meme about synthetic division, brought to you by Buddy the Elf.
 thank you for reading all of my fave things this month that bring me joy.
la fin. (the end).
Leave a Comment
About the Contributor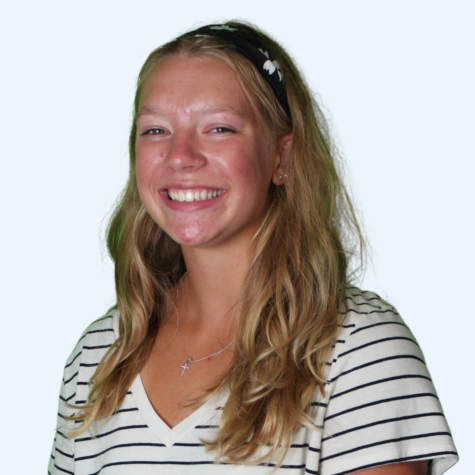 Sophia Bruce, Plume Staff
Sophia Bruce is a senior at Capital City High School and an active member of the CCHS Newspaper staff. Sophia is also a 3 year member of the Capital City...