Podcast Plug: Inner Works with Olivia Beira
A podcast featuring manifestations, gratitude + life advice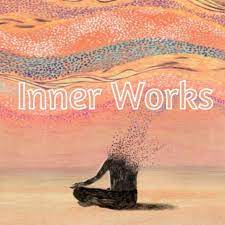 We're back, with another podcast plug! Today we're featuring my all time favorite podcast: Inner Works with Olivia Beira!
When I came across Inner Works with Olivia, I was I think a junior, and was contact traced because of Covid. Of course, I did all of my school work and had time to binge watch all of my TV shows and read all of my favorite books, but I still walked my little dog everyday around the park. At this point, I had listened to EVERY episode Emma Chamberlain and TMG had to offer, and I needed something new. I found a podcast called Inner Works on Spotify, and immediately fell in love with Olivia and her podcast. Literally, my favorite podcast to date, I love it so much. I legit, listened to every episode Olivia put out while I was quarantined, in like, the span of 2 days.
Inner Works, is kind of like Emma Chamberlain's podcast, in the best way possible. Olivia Beira gives her life advice, and shares on her own life experiences and what they have taught her. She makes the podcast so beautiful in just the way that she relates to all of her listeners, which are primarily teenage girls. Olivia touches on heavier topics like Emma does, such as body dysmorphia, society's expectations of girls and the stigma around body weight in general, feelings of anxiety + depression, and feeling like you don't fit in to friend groups and peer groups in general. Olivia offers her own experience going through these problems, and talks in the podcast as she's talking to a friend, which makes YOU feel like you're her friend! Olivia is the older sister I WISH I had growing up, and even through just listening to her 30 minute sessions, you get the immediate vibe that she is genuine, and just has the kindest soul.
In one of my favorite episodes, Olivia touches on phone addiction and seasonal depression, which I feel like everyone (including myself) struggles with on a day to day basis; something people don't talk enough about! Olivia touches on hard topics that feel like no one wants to shed light to, and offers her words of wisdom. Concerning phone addiction and seasonal depression, Olivia explains that nature and going outside has helped her ground herself. Additionally, yoga and focusing more on her present life AROUND her, not so much the life in her phone.
Inner Works also has an additional layer that I absolutely LOVE, where Olivia talks about various other topics such as religion, grounding in love and inner child healing, intrusive thoughts, and manifestations. Some of you may be reading these topics and think that manifestations+ practicing acts and talking about acts of gratitude is a bunch of weird 'hippy crap' (as my mom quotes, sometimes depending on her mood), and trust me. I thought the same thoughts UNTIL I started listening to Olivia's podcast and practicing her gratitude suggestions in my day to day life. Let me tell you, I'm obsessed. I'm not educated as much as Olivia in manifestations, affirmations, etc., but my interest is continually growing. Because of Olivia, I take time to write in my lil' journal some affirmations + manifestations I want to have myself and why I would like to manifest those hopes and thoughts. Manifesting and affirmations have helped me SO much in my day to day life, by just giving me hope and strength in myself. My cheer team has also been super inclusive of affirmations, and goals. We journal as a team what our goals are, who we want to be as athletes and people, and how we are changing our habits to reach those goals. Practicing gratitude calms me down enormously, just writing to myself who I'm grateful for and why helps me feel more grounded and less anxious, and helps me realize all of the things that I should be grateful for in my life.  
I HIGHLY recommend Olivia's podcast, for literally anyone, but especially people who love life advice, and want to grow in practicing manifestations and gratitude. Olivia has the most perfect podcast voice, and the sweetest, and most down to earth soul. Will forever be in debt to her for introducing me to practicing healthy habits in my day to day life. 
Pictured below: some of my favorite affirmations that help me feel strengthened <3