Soph's Opinion: The Best Valentine's Day Treats Ranked
Today, we are talking about the best Valentine's Day treats! When I think of Valentine's Day, I think of cute little hearts, pink and purple and red throwing up everywhere, and cute little stuffed animals. However, sometimes these aspects can be a lot, but the candy always makes up for the lovey dovey holiday. Let's jump in 🙂
Chocolate covered strawberries
Heart shaped boxes of chocolates
Lil' Debbie Be My Valentine Cakes
Loft house sugar cookies! (The Aaron cookies)
#1: Chocolate covered strawberries (the way to my heart)
I absolutely love chocolate covered strawberries!!! I really don't enjoy candy at all, I'm not really a candy lover type girl, but I could eat chocolate FOR DAYS. I love chocolate so much, I pretty much will eat anything covered in chocolate. Chocolate covered strawberries have been in my life for a long time revolving around Valentines Day, my mom would make chocolate covered strawberries for my dad, and would let me and my little sister decorate them with all of our favorite sprinkles. Chocolate covered strawberries are literally the best Valentines Day treat, and I only eat them around Valentines Day which makes them extra special. I especially love fruit covered in chocolate, and highly recommend the Tru Fru fruit at target, which is frozen fruit covered in white chocolate and dark chocolate. Literally so addicting, and it makes you feel a little bit healthier when eating your desert!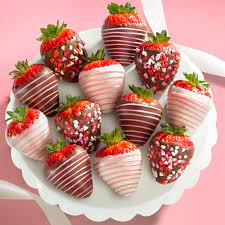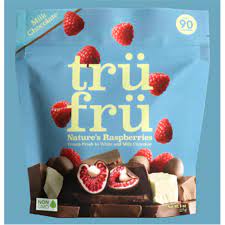 #2: Heart shaped boxes of chocolate
I've heard so many mixed opinions about heart shaped boxes of chocolates, some people think its the worst chocolate they've ever tasted, and some people (like me) absolutely love the chocolate, and swear that it's the best. I don't think you can ever go wrong with a good box of chocolates! You can go the cheap route and get the mini boxes with just a few chocolates for just a dollar (the chocolate still tastes bomb), or you can go the route that some people go, and get a box of chocolate that costs a little more, like the Russel Stover's brand! I think of heart shaped boxes of chocolate as the OG Valentine's Day candy, and I especially love going the cheap route, and getting the boxes that have the super cute animals on them :))!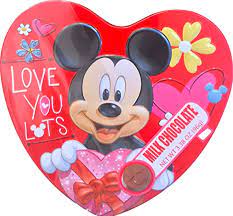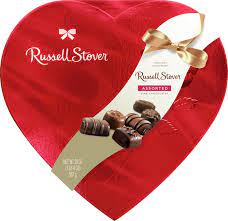 #3: Lil' Debbie Be My Valentine Heart Cakes! 
I used to HATE Little Debbies. Literally any type of cake Little Debbie made, I just HATED. I literally wouldn't eat Little Debbies at all. (Sometimes I would enjoy a cosmic brownie but not often.) However, I'm much older now, and my taste has changed, and matured. I have literally the best taste in any type of food, and now I can share with you that Little Debbie still in fact, sucks. She literally sucks, she can't really make any type of cake that tastes like anything other than school glue mixed with white granulated sugar, EXCEPT the Be My Valentine cake hearts. I recently rediscovered my love for these cakes after my friend shared one with me! The cakes are so cute; I love their cute little heart shapes, how there is 2 cakes in each package, and the cake actually tastes pretty decent!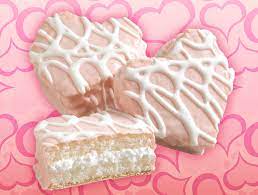 #4: Loft house sugar cookies (the Aaron cookies)
I feel the same way about these cookies as I do with Little Debbie's heart cakes; I used to hate them, but now I love them!! Maybe it is because I've been absolutely STARVING when I've eaten them, but these cookies go HARD. The reason these cookies are ranked so low is because sometimes they are incredibly dry, and I sometimes don't enjoy the flavor of the cookie + the icing depending on my mood. I've only ever known these cookies as the 'elementary school cookies', ya' know…the ones that all of the kids would bring on their birthdays during elementary school as a snack? But now I know them as the Aaron cookies, because my pimp Aaron is an absolute G and has offered me these cookies almost everyday of last week. Bless his heart. Thank you so much Aaron.