Soph's Opinion: Olivia Taylor and SR-22 at The Mission
Soph's thoughts on the newest upcoming stars from Jefferson City
I recently was invited to see a concert with my best friend Shelby, on one of our snow days! The show was Friday night at The Mission in JC, and I didn't really know what to expect when going in to the whole experience. The only concert I've ever been to was at the Blue Note in Columbia, and it was to see Mason Ramsey (big flex), soon after he went on his first few tours. The Blue Note was… typical. Lots of spilled alcohol on the floor, lots of people packed shoulder to shoulder, lots of frat boys dressed up in cowboy boots and cut off jean shorts. Yeah. A fond memory.
On Friday, I knew that I was seeing Olivia Taylor perform, and I was super excited! I've heard Olivia at multiple events from CCHS choir performances, and I absolutely love her voice. However, I've never been to The Mission, or heard SR-22. After experiencing a Friday night hearing both artists, I can assure you that going and hearing Olivia or SR-22 will be one of the best ways to spend a night, and you will want to donate every last spare piece of change you have in your wallet tipping them.
Pictured below: Soph and Shelbs livin' it up with their mom selfies 🙂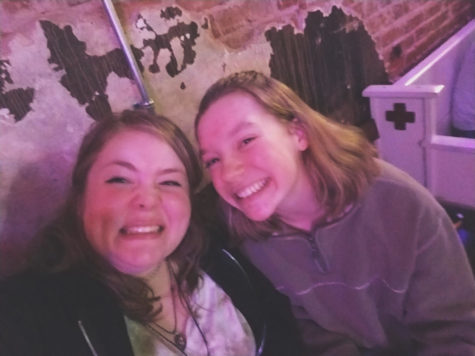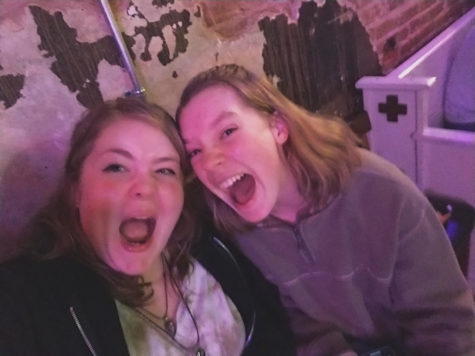 The Mission JC
I had a BLAST listening to both Olivia and SR-22, but I think that experience was all around made more amazing because of the setting. I LOVED Mason Ramsey. I LOVED the friends that I went to Mason's show with. Didn't really like the location though! I can normally manage a lot of people in a space at a time, but when you're shoulder to shoulder with sweaty college boys, it kind of is… a lot. I would say my first concert experience just was a little overwhelming, and I wish it was a little less chaotic, and I didn't feel like I was going to overheat next to the stage. The Mission JC, is absolutely amazing (Disclaimer: you do have to be 21 or accompanied by an adult over the age of 21 to enter). The atmosphere, is so NICE. The space as a whole, is kind of smaller, but still a nice size with a stage with beautiful lights, and a back room with vintage couches and fairy lights. The entire place is covered in vintage photographs of bands and groups, and the lighting is low but not TOO low, where you're tripping over your feet *or someone else's feet. The bathroom is BEAUTIFUL, and not in a weird way….? It was incredibly clean and had nice vintage photos as well. The stage is relatively close to the chairs and tables, which makes it so nice, you can actually hear the artists performing and the SOUND QUALITY?? Chef's kiss bruh. I absolutely LOVED the environment of The Mission. Chill people, chill vibes, just all around people wanting to experience a night out listening to good music. AND it was only a 5 dollar entry fee for each person through the door, which makes The Mission a great and cheap place to spend your night when you want an activity!
Pictured below: a vintage photo hung on the wall at The Mission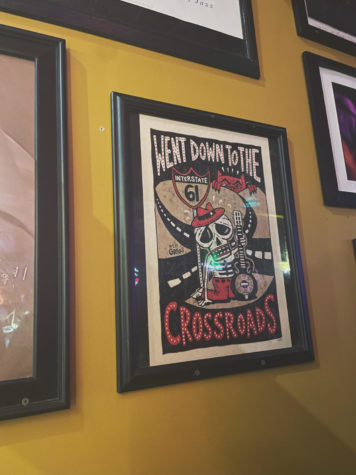 Olivia Taylor 
Oh my lord have mercy. Olivia Taylor, is one of the best singers I've heard ever, if she literally was an artist on Spotify, I would be listening to her voice 24/7, day and night. I feel like, teenagers just suck in general at singing. NOT TO BE MEAN!!! AT ALL. We're just… ya know. Goin' through it. Our voices are… goin' through it. I think if a teenager can sing and sing well, they're so so talented, and they've been graced with a talented gift (that's why I'll always stand by the opinion that choir kids are a few of the most talented people ever). Olivia Taylor CAN SING. Not only does she have the most beautiful, sweet, soulful voice ever, she also creates her own original songs. One of my favorites that she's written called Cut My Hair, makes me cry every time I hear it. Her words and songs are so beautiful, and I can relate to almost every one of her songs. I could go on and on about how talented Olivia is, and how she truly has a gift!! I would definitely place Olivia in the Indie category of music, which personally is my favorite kind. Her songs are a little bit slower, and include a guitar and more of an acoustic feel. The fact that Olivia not only sings, writes her own original songs AND plays the guitar makes her so much more talented as an artist! Olivia is not only a beautiful singer, but also a beautiful person and has been the most kind individual in the world to me when we've had conversations! She additionally is a coffee finatic, and I often see her around school with a cup of coffee from High Rise Bakery, which really shows she's a true queen. Olivia has truly won me over with her talent as a young, aspiring artist but also as a genuine person. Would pay even MORE money than just 5 dollars to watch her perform again, Olivia truly has a gift and I can see her performing on the big stage later in life!
Pictured Below: Olivia singing! (2/4/22)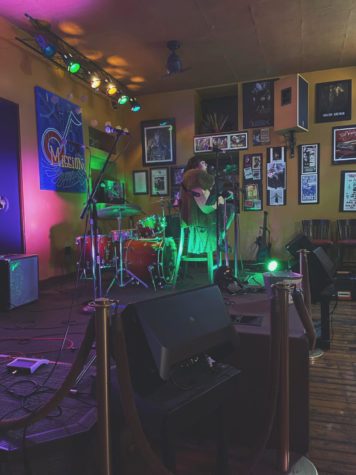 SR-22
As I've been preaching, kids who can SING, are the most talented kids in the world. SR-22 currently has 5 members, and they're some really frickin' talented kids. Alivia, the main singer for the group, is super talented! She sings out so well, and truly gets into the music that she's singing! The group as a cohesive team, is amazing. All members of the group have their own special talents that they bring to the stage, that is conveyed through every piece they sing. Brent, who plays bass guitar is AMAZING. Watching him play, he obviously works extremely hard to perfect the guitar riffs, and although I am clearly uneducated about anything relating to instruments, Brent can play all of the cool riffs that you would hear in a rock band. Which for a YOUNG artist, is amazing and truly takes talent and hard work. Shelby and I were accompanied by Shelb's dad Wade (girl's night plus dad!), who I would classify as the harshest critic in music (or in anything, hehehe. Love you, Wade). The coolest thing ever was watching Wade tap his foot to most of the songs that SR-22 sang and played to, and even sang along with SR-22 when they played some crowd involvement songs (another amazing thing about the group, they include songs that involve the crowd and makes the whole room light up and sing right along with them). If Wade can tap his foot and enjoy himself to your music, in MY opinion (and secretly, probably Wade's too) you've made it and you're obviously doing something right. It's so nice and refreshing to see and hear a group of small town kids working their hardest to just make cool music, and bring joy to other people by sharing their gifts. I highly recommend listening to SR-22, and supporting local kids who could definitely sell out the Blue Note in the future.
Pictured below: All members of SR-22 singing together (2/4/22)
Members include: Alivia, Eric, Brent, Gage, Matthew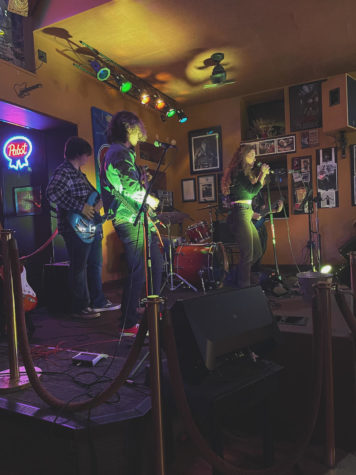 la fin (the end).