Alternative Packed Lunch Recipes
Though the spicy chicken sandwich, pizza Friday, and taco crunch have left a significant impact on the culture of CCHS, many students will never be able to experience the wondrous flavors of school lunch. According to Statista writer, Felix Richter, roughly 10% of Americans are lactose-free, 9% are gluten-free, 5% are vegetarian, 4% pescatarian, and 3% vegan. If applied to Capital City students that would mean roughly 400 students have some sort of food allergy or sensitivity, thus leaving packed lunch as the only option. Below are some creative, flavorful, and easily adjustable packed lunch ideas to get through the school year!
Spring Rolls With Peanut Sauce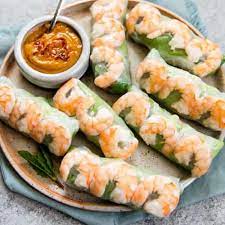 Spring Roll Ingredients
Rice Noodles (Vermicelli)
Rice Paper
Lettuce
Bean Sprouts
Fresh Thai Basil Or Cilantro
Fillings (meat optional)- Cooked Shrimp (cut in half lengthwise), Sliced Pork, Sliced carrots, Sliced Cucumbers, Shitake Mushrooms
Peanut Sauce Ingredients
1 Cup Hoisin Sauce
¼ Cup Peanut Butter
1 Tbsp. Rice Wine Vinegar
½ Tsp. Garlic Powder
2 Tbsp. Crushed Peanuts
Instructions
1. Bring a medium sized pot of water to a boil. Boil Vermicelli for 3-5 minutes. Drain and set aside.
Fill a large bowl with warm water. Dip rice paper into water for 3-5 seconds to soften. Make sure to not oversoak. Lay on a flat surface to prepare for fillings!
2. In the center of the softened rice paper, place lettuce, Fresh herbs, then other fillings. The lettuce serves as a solid base so none of the other toppings rip the paper. Make sure to leave space on each side of the fillings for folding.
3. Now folding! Fold the top part of the paper over the fillings. Fold in the sides then roll the rest over the remaining side.
For the peanut sauce, simply whisk all the ingredients (besides the crushed peanuts) until they reach a smooth consistency. Top sauce with crushed peanuts.
Southwest Veggie Quesadillas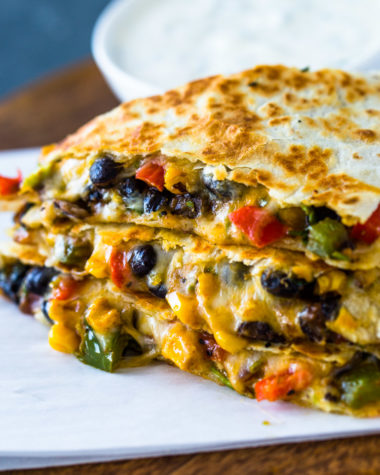 Ingredients
1 tablespoon olive oil
1 cup bell pepper diced (colors of choice)
1 cup black beans canned, rinsed, and drained
1/2 cup corn (canned, frozen, or fresh)
½ cup onion diced
2 cloves garlic minced or crushed
1 teaspoon cumin
1 teaspoon chili powder
salt and pepper to taste
¼ cup chopped cilantro
4 medium flour tortillas
2 cups shredded cheese (can be vegan cheese)
Instructions
1. Heat 1 tablespoon oil in a medium pan over medium-high heat. Add the oil, bell peppers, black beans, corn, onion, garlic, cumin, chili powder, salt, and pepper. Season with salt and pepper and cook for 3-4 minutes or until the bell peppers and onions of softened. Turn off heat and stir in the cilantro.
2. In a clean skillet over medium heat, add a flour tortilla. Top with cheese, cooked veggies mixture, and another layer of cheese. Place another tortilla on top and cook, flipping once, until golden on both sides, about 3 minutes per side. Repeat with remaining ingredients.
Black Bean Burger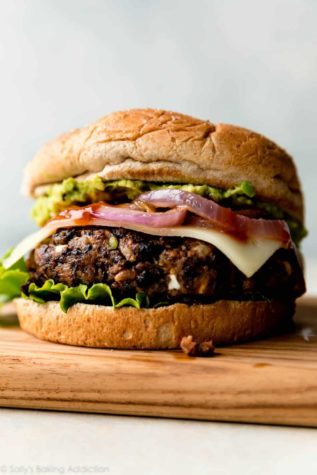 Ingredients 
2 (14 ounce) cans black beans, drained, rinsed, and patted dry
1 Tablespoon extra virgin olive oil
3/4 cup finely chopped bell pepper
1 cup finely chopped yellow onion
3 garlic cloves (minced)
1 and 1/2 teaspoons ground cumin
1 teaspoon chili powder
1/2 teaspoon garlic powder
1/4 teaspoon paprika
1/2 cup bread crumbs or oat flour
1/2 cup feta cheese (can be skipped)
2 large eggs (can be replaced with ⅓ cup mashed sweet potato)
1 Tablespoon Worcestershire sauce (can be replaced with BBQ sauce)
2 Tablespoons ketchup, mayo, or BBQ sauce
pinch salt and pepper
Instructions
1. Preheat oven to 325°F (163°C). Spread beans evenly onto a lined baking sheet and bake for 15 minutes until slightly dried out.
2. Meanwhile, sauté olive oil, chopped pepper, onion, and garlic over medium heat until peppers and onions are soft, about 5-6 minutes. Gently blot some of the moisture out. Place in a large bowl or in a food processor with the remaining ingredients (cumin, chili powder, garlic powder, smoked paprika, bread crumbs, cheese, eggs, Worcestershire, ketchup, salt, and pepper). Stir or pulse everything together, then add the black beans. Mash with a fork or pulse the mixture, leaving some larger chunks of beans.
3. Form into patties– about 1/3 cup of mixture in each. Place patties on a parchment paper lined baking sheet and bake at 375°F for 10 minutes on each side, 20 minutes total.
Comment below what you bring for lunch!