Smart.Beautiful.Golf
Golf season is in full swing! The Lady Cavaliers started out the season with a mighty score of 197 in their first match and won a triangular against Fulton and Wright City at Fulton Country Club. They also took second place in the Versailles Invitational.
Many people have heard of golf, I have, but I have no idea how it works. So, how does it work?
The object of the game is to get your ball from the tee (the starting point of each hole) to the hole with the least amount of shots possible. A standard course consists of 18 separate holes.
"Different lengths for each hole are marked by different colors. The farthest being blue, the second farthest being white, and the closest red." – Callie Walsh, 10
Scoring
You score points in golf by hitting the ball into the hole in the least amount of strokes possible. The player with the lowest score wins. Scoring is done using a method called stroke play. The total number of shots taken by a player to complete a hole is added up.
Scores are expressed in terms of par. Par is the number of strokes the golfer is expected to need to complete an individual hole. So Under Par is good. It means that you completed the hole with less than the expected amount of strokes. You need a minimum of 5 clubs to play golf but you cannot exceed 14. 
Golf seems like a pretty chill sport, but I wonder how golf coaching feels. To create professionals in a sport that requires a great deal of patience. Here are a few questions I asked the CCHS Golf Coach, Caitlin Phoenix about being the season and being a mentor. Coach Phoenix has been guiding golf players for 5 years. Two of those five years here at Capital City.
How is the season going so far?
Phoenix: "This season has gotten off to a great start! We have had multiple players set new PRs (personal records), receive medals for top finishes in tournaments and, as a team, our score has progressively gotten lower each tournament."
What is the best thing about being a coach?
Phoenix: "The best thing about being a coach is getting the opportunity each day to have a positive impact on my players' lives. Obviously, we compete to win, but I measure my success in the personal growth of each of my players. Golf is a huge mental game so increases in confidence, maturity, and overall knowledge of the game generally translate to lower golf scores."
What is your favorite thing about golf?
Phoenix: "My favorite thing about golf is that it feels like an escape from the stresses of everyday life. The golf course is my happy place…the place I feel most relaxed. It is also a game that teaches so many life skills beyond the performance part: patience, humility, confidence, honesty, and integrity, just to name a few."
How does a typical day of practice look for the team?
Phoenix: "Practice varies depending on if we are in or out of season. Since golf is an individual sport, players are usually working on the individual skills they need the most work on. If I notice a skill the entire team is struggling with, we will work on specific drills to improve in that area."
Do you have any advice for aspiring golfers/athletes?
Phoenix: "The best advice I have for aspiring golfers is to just give it a chance. A lot of people make judgments on golf before ever trying it. If you are someone who is driven and likes a challenge, give it a shot."
If someone wants to join the golf team, what should they do and who should they talk to?
Phoenix: "If someone wants to join the golf team at CCHS, come talk to me or Coach Lowery. If you are just trying to get started or see if you like it, borrow a set of clubs from a relative, go out to one of the local courses, and try a little of everything."
---
Golf sounds very interesting and if you think so too, you should support our golf team by either going to their games or spreading the word about them so they get the recognition they deserve for representing our school. Follow @CavaliersGolf on Twitter to stay updated on the season!! Go Cavs!
Leave a Comment
About the Contributor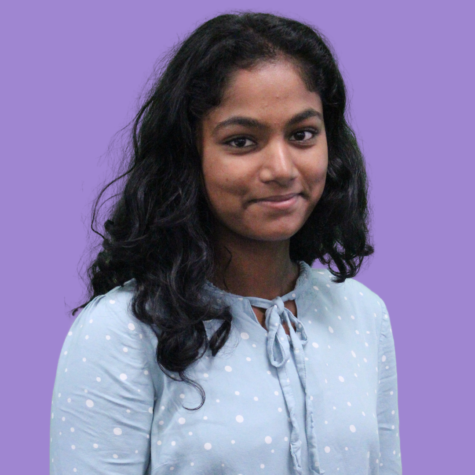 Prinitha Sivaselvan, Plume Staff
Prinitha Sivaselvan is a sophomore at Capital City High School.  She is a part of the Plume Newspaper staff, and CCHS girls tennis team. Prinitha loves...