3 Simple Southern Thanksgiving Recipes
We are less than one month from Thanksgiving, and the countdown is officially on! Let's take a look at some classic southern dishes that are perfect for this year's Thanksgiving festivities:
SOUTHERN BAKED MACARONI AND CHEESE – 
This recipe is from Kelly on thehungrybird.com. During her time living in St. Louis, she states that at her favorite soul food restaurant 'Sweetie Pie's'  has the best macaroni and Cheese she has ever had!
Ingredients: 
8 to 10 ounces elbow macaroni
-½ cup whole milk
-1 (12-ounce) can evaporated milk
-2 eggs, lightly beaten
-1½ teaspoons white pepper
-1½ teaspoons granulated sugar
-½ teaspoon salt or to taste
-½ cup (1 stick) butter, cut into small pieces
-2 tablespoons sour cream
-½ pound Velveeta, cut into small chunks
-8 ounces shredded Colby-Jack cheese or 4 ounces Colby and 4 ounces Monterey Jack
-4 ounces shredded sharp cheddar cheese
-1 cup shredded mild cheddar cheese
Step 1- Cook and drain elbow macaroni and place in a baking dish or pan. Preheat oven to 350º.
Step 2- Make the custard mixture by whisking together milk, evaporated milk and eggs, and some seasoning, and pour the mixture over the macaroni.
Step 3- Add the butter, sour cream, and three kinds of cheese and stir to combine well.
Step 4- Top with more grated cheese and bake for 30 to 40 minutes until bubbly and the top is browned. Enjoy!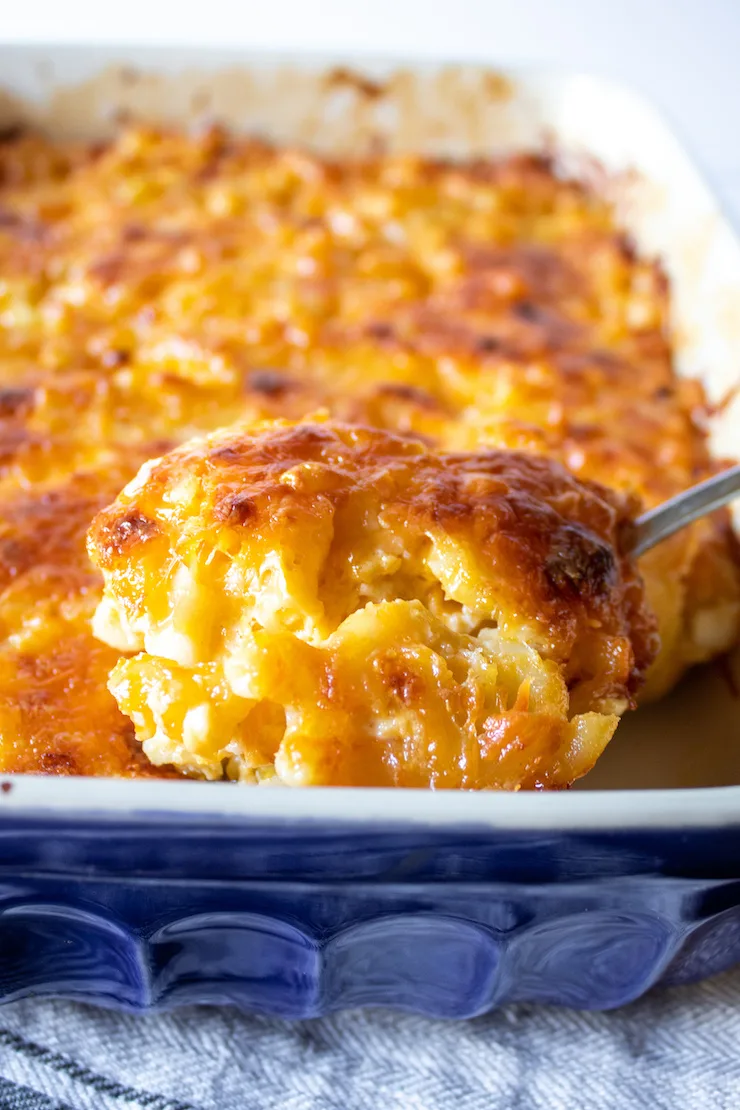 SOUTHERN PUMPKIN PIE-
This passed-down recipe is from Heather on fuelingasouthernsoul.com. A smooth cream and flaky homemade crust passed down from her mother, Heather has come to share this to-die-for recipe.
Ingredients:
-Canned Pumpkin Puree (NOT pumpkin pie filling)
-Honey
-Eggs
-Cream
-Milk
-Cinnamon
-Ginger
-Nutmeg
-Cloves
-Salt
-1 Cup Flour
-3 Tablespoons Butter
-3 Tablespoons Lard or Shortening
-½ Teaspoon Salt
-3-7 Tablespoons Ice Water + more if needed
Home Made pie crust (optional you could use store-bought crust): Step 1- In a large bowl, add flour, salt, cold butter, and cold lard/shortening.
Step 2– Using a pastry cutter, cut butter and lard into the flour until the mixture resembles small pea size shapes. If the butter and lard have gotten too warm in the process, place into the freezer for 5 minutes to chill before continuing.
Step 3- Fill a large glass with water and ice. Using a tablespoon measure, spoon 5 tablespoons of the ice water into the flour mixture. Using a fork or spatula, mix well. You may need to add in more water if still floury and not coming together. You want the dough to just begin to come together – not sticky and wet but not floury and crumbly as well. It will still be a bit crumbly but when you squeeze it together with your hands it stays together (see the picture below). Do not add too much water (I usually end up adding around 10 tablespoons most of the time).
Step 4- Sprinkle flour lightly out onto the counter and place dough on top. Roll around flour so that all sides are covered and bring it together into a ball shape.
Step 5- Roll out with a rolling pin in a circle until it is larger than your pie plate.
Step 6- Gently pick up the crust at one end and scoot the pie plate right up next to the dough so that it is easy to flip over/drag over onto the pie plate (this allows you not to have to pick up the entire pie of dough and risk breaking). Make sure the dough lays evenly around all the edges.
Step 7- Trim off any excess on the sides of the crust, then gently crimp your edges with your fingers all the way around the pie plate. (To crimp: gently fold the excess crust under itself on the edge. With your pointer finger and thumb on both hands, gently pinch together the crust then push both hands together to meet, forming a small pinch. Repeat around the entire crust.)
Step 8- blind bake.
Continuing the recipe!: Step 1- Add pumpkin, honey, and spices to a bowl and whisk to combine.
Add in eggs and whisk. Step 2- Stir in the cream and milk until smooth. Step 3-Pour the pumpkin filling into the blind-baked pie crust and place it back in the oven for 55-60 minutes. You want the center to just be set. Do not overbake! Step 4-Remove from the oven and enjoy!

SOUTHERN DEVILED EGGS – 
My favorite part of the thanksgiving feast is always the deviled eggs. Don't worry the recipe is just as easy as it looks, enjoy this recipe from Brita on foodwithfeeling.com!
Ingredients: 
-6 eggs
-¼ cup of mayo ( optional homemade mayo in this recipe)
-1 teaspoon of dijon mustard
-1 ½ tablespoons of dill relish (try not to get too much of the liquid)
-Pepper to taste*
-Sprinkle of paprika for serving
Step 1- Hard boil your eggs! To cook the eggs on the stovetop, put the eggs in a pot and cover them with water so that there's about an inch of water above the eggs. A teaspoon of salt helps them peel quicker, Set the pot over medium-high heat and bring to a rolling boil. Once at a boil, remove from the heat, cover, and let sit for 10 minutes. Remove the eggs from the pot and place them in an ice bath to cool completely.
Step 2- Peel your cooled eggs and slice them in half lengthwise. Remove the yolks and place them in a medium bowl. Mash the yolks until their creamy and very few lumps remain.
Step 3- Combine dijon, relish, mayo, and pepper as well as the yolks into a bowl and mix.
Step 4- Scoop with a spoon the combined mixture back into the egg whites, sprinkle a bit of paprika over, and Enjoy!