It's the Most Wonderful Time of Year!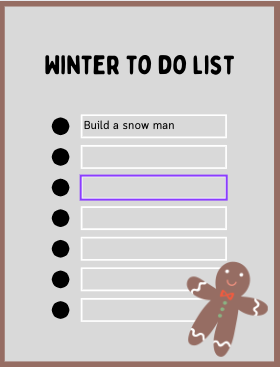 Winter: what most people consider the most wonderful time of the year is finally here. There are tons of activities to do in winter, whether its in the snow or just enjoying the cold weather. The holiday season is perfect for hot coco, building snowmen, putting up all the Christmas trees and sight seeing beautiful lights.
Being a kid during this time of the year was always the best. Who could forget getting started on writing letters to Santa or making sure to be on your best behavior so you're not on the naughty list.
After asking one of my younger peers what their favorite part of winter was, they said waiting for Santa and getting gifts. I remember waiting to get all bundled up to go play in the snow and finding the biggest hill around town and go sledding. But as we get older more winter activities open up to us. Some people like to travel back to tropical places during these cold times on vacations. 
Family is big around the Holidays so going to be with family and doing fun things together is what a lot of people love to do. Traveling on ski trips or to the mountains is a family favorite around the holidays.
For me personally, my favorite winter activities, include cuddling up at home with warm heaters and hot cocoa and watching Christmas movies, while burning peppermint candles.
Most adults like to stay home and bake sweet treats and listen to the jolly music, while others run out shopping all day and getting gifts ready. 
In all, winter is a lovely time of the year and has activities for everyone to enjoy and celebrate.