Plume Review: Spirited movie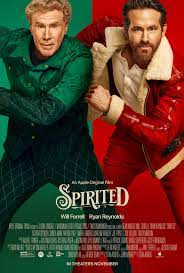 Introduce the movie: what is it about? Who stars in it?
Spirited is a movie that is a musical version of Charles Dickens, A Christmas Carol, and stars Ryan Reynolds and Will Ferrell. Spirited is rated PG-13 by the MPAA for language, some suggestive material and thematic elements.
What did you like about the movie specifically?
I like  the adventure the movie takes you through
I like that they added comedy to Christmas
I liked the way they made Will Ferrell a Magic person that helps Ryan Reynolds's person
What did you dislike about the movie? Why?
I wished that they could have added a little more to the movie and made it longer
What people are saying online:
When I first heard about ANOTHER Christmas Carol movie I was not stoked. Even if it did have Wild Ferrell and Ryan Reynolds! I figured it would be another cheap money grab. On Rotten Tomatoes, the movie movie received a 66% critic rating.
Ritchey Brother Ratings:
Mason: 4.5 out of 5
Bryce: 3.5 out of 5