Top Ten UNO Decks
Uno has arguably been one of the most popular card games since its creation in 1971, and thus as the capitalist machine demands, there has been an abundance of themed decks over the years. Currently, there have been 567 different spinoffs and themed decks, ranging from baby animals to the Big Bang Theory. With so many choices, it can be hard to decide what to buy, whether for yourself or your friends, so I've valiantly put together a list of the my ten favourite UNO decks.
10. UNO: Care Bears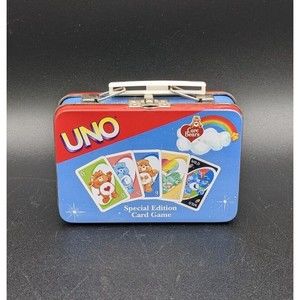 Maybe it's just nostalgia speaking but I find this Deck absolutely adorable. I just love the pastel colors, this would probably be higher on the list however the wild cards kinda stick out like a sore thumb with their back background. I feel like they totally could've just made the background rainbow itself or even white. The packaging comes in a little lunchbox style that I'm lowkey obsessed with. Like many other specialty decks, this edition has a rule that Each player gets one free pass to put any card on the discard pile that doesn't match, however, action cards are null and won't perform their action.
9. UNO: Glee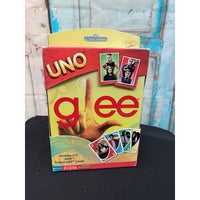 Glee is quite possibly the best and worst show of our generation. The series follows a high school glee club and their raunchy and oftentimes downright illegal antics. I simply cannot put into words the kind of joy, or glee (pun intended) that this show gives me. The cards feature the cast of glee and include the card "Sabotage" which features Cheerio's coach Sue Sylvester. Sabotage allows you to swap cards with another player.
8. UNO: Nonpartisan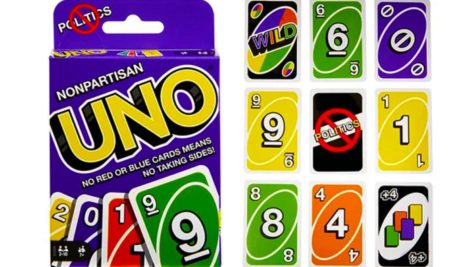 I honestly think this is one of the more creative concepts for a version of UNO. The united states currently functions on a mainly two party system so I think this version is good way to remind players that not everything is about politics. Artistically the cards are almost have the exact same design as classic Uno, however, the red and blue cards have been replaced by Orange and Purple. There is also a "Veto" card that I meant to placed in the center of the table. If a players starts talking politics another player is supposed to slap the veto card and the player talking politics must skip their next turn and stop talking politics.
7. UNO: Doctor Who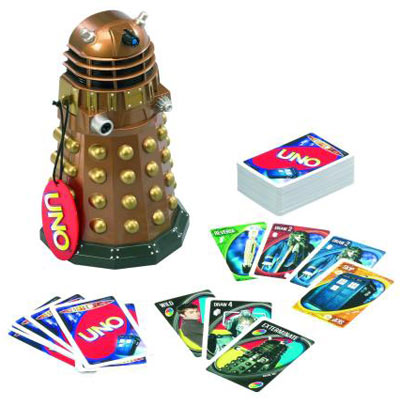 Perhaps my inner geek is coming out with this one, But I simply can't resist anything Doctor Who-themed. This deck Features the 10th Doctor, played by David Tennant,  The tardis, and several other hero's and villain's from the series. It also comes in a adorable case that resembles A Dalek. Additionally, the specialty card in this deck is "Exterminate" which forces the player with the least amount of cards to draw.
6. UNO: Nothin' But Paper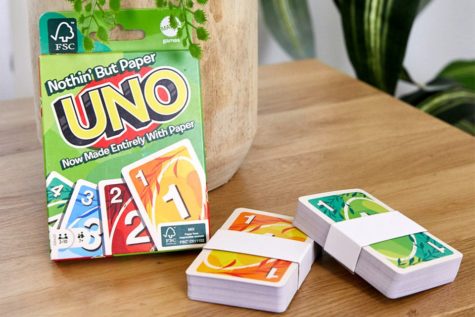 Talk about "eco-freindly", this Deck is made entirely from paper and is also completely recyclable. If I'm being completely honest, I didn't even realize that traditional uno wasn't recyclable. The printing on these cards is even made from Soy ink (whatever that means). Depsite this probably just being a marketing tactic, I think its important to applaud and recognize companies for trying to make more eco friendly alternatives so that they continue wth the trend.
5. UNO: Susan G. Koman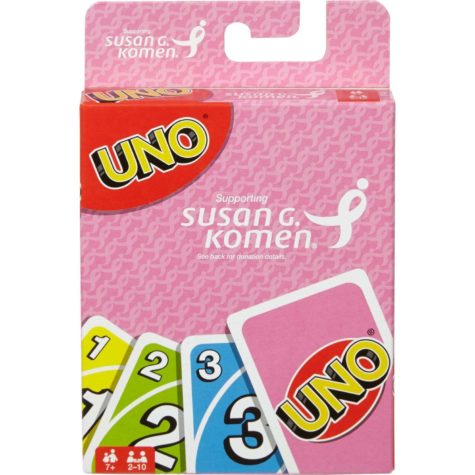 I think everyone can agree that Breast Cancer is Bad. The Susan G. Koman foundation works to find a cure for Breast Cancer and Support those affected by the Disease. Their Race for the Cure is known as one of the largest breast Cancer events ever created. This collaboration with Mattel, the owners of Uno helps support the foundation and spread awareness towards the brutal disease.
4. UNO: American Kennel Club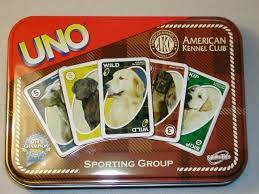 Okay technically there are four versions of the American Kennel Clubs UNO but like, dogs are dogs so I'm just Grouping them together. The Different variations are the Herding group, Sporting group, Non-Sporting group, and the Terrier group. The specialty card for these Decks are "Best in Show". This card makes the next person draw until they get the color.
3. UNO: BTS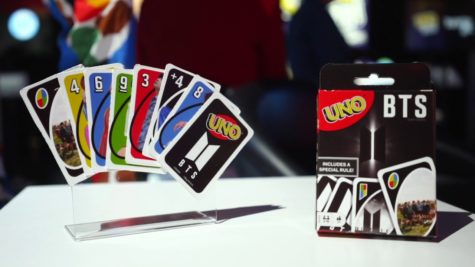 Look, I am a simple minded creature, I see BTS and thus I Buy. BTS, also known as Sangtan Sonyeondan (meaning Bulletproof Boyscouts) is one of, if no THE, most popular Boy group at the moment. The group consists of 7 members, 3 rappers and 4 voalists. Personally my Bias is Yoongi,aka: Suga, aka: Agust D. The Speciality card in this decks forces the players to perform their favourite BTS Choreography or draw 3 cards.
2. UNO: Artist Series- Takashi Murakami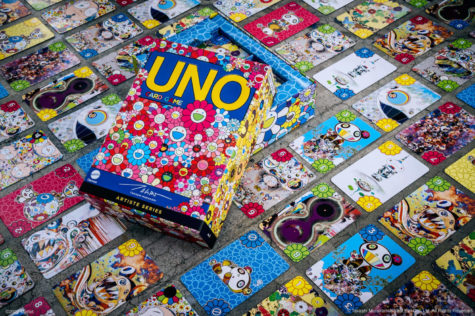 I honestly love every deck from the artist series however, for the sake of diversity I've decided to choose just one from this list.  The artiste series was created to appreciate influential artists and help highlight their activism and contributions to society. This deck is perfect for the art lovers out there, the intricate designs and details give them more sophistication than a typical UNO deck, however, the bright colors and contemporary style keep it youthful and fun.  The artist, Takashi Murakami of Tokyo, Japan is known for his "super flat theory" and is Currently one of the most influential contemporary artists of today.
1.UNO: Braille

UNO Braille was made in partnership with the National Federation of the Blind to made UNO more accessible to everyone. This deck may look like anyother typical UNO deck however; there is one major difference, each card in this deck includes brain to help visually impaired players to know what cards they are holding. The instruction card is braille as well and instructions are also avaible in audio, digital, and printable options.