Winners of the 'MAMA' Awards
On November 29th and the 30th, the biggest Korean award show was podcasted. This show is a time to show Kpop artists all the recognition they deserve for their hard work this year.
Jhope 
This year Jhope released the album 'Jack In The Box. Though having more with his group BTS, Jhope has won two awards himself.  Jhope has won both 'The Most Popular Male Artist' and 'bibigo Culture & Style'!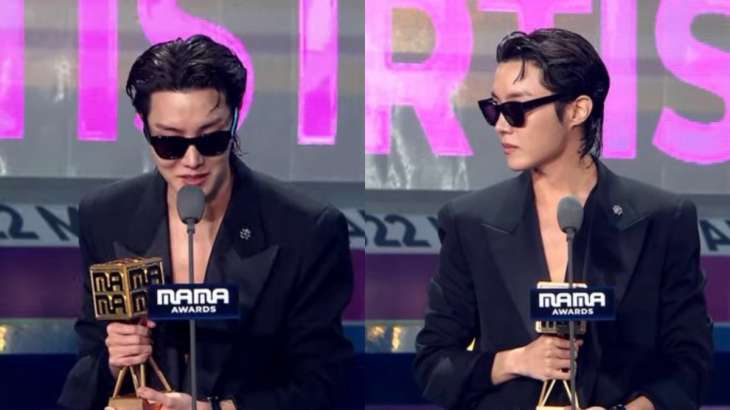 BTS
Not only Jhope of Bts, but the entirety of Bts has won the highest amount of awards. The 7-member boy group wins, Yogibo Worldwide Icon of the Year, Yogibo Artist of the Year, Yogibo Album of the Year, Yogibo Song of the Year, Worldwide fans' choice top 10, and Best Male Group. Also at the end of the night winning the MAMA Platinum, which an artist can only get by winning 4 Daesang awards at once. They are also the first K-pop group to ever win this award.
IVE
Only one year as a group, girl group Ive is the fastest K-pop group to win a Daesang award (Yogibo Song of the Year). Along with other awards like Favorite New Artist, Best New Female Artist, and Best Dance Performance Female Group.
Stray kids 
Kpop boy group stray kids attends the mama awards with an amazing performance, along with winning 3 awards. Worldwide fans' choice of top 10, Yogibo Chill Artist, and most proud 'The Most Popular Group'.
BLACKPINK 
Famous K-pop girl group Blackpink released their 2 albums 'Born Pink' this year! Blackpink wins a total of 3 awards at this year's MAMA awards. They gained awards like 'Worldwide fans' choice top 10′, 'Best music Video', and 'Best Female Group'.
Psy 
You might know him from the famous song 'Gangnam Style' made in 2010, but this year he released the popular song 'That That' with Bts member Suga. He won a total of 4 awards, 'Best collaboration', and 'best dance performance solo'.
Xdinary Heros
For only debuting last year in December, this year Xdinary Heros has won 2 awards! Known for their Rock Concept music, they've won 'Best New Male Artist', and 'Best Band Performance'.
Seventeen 
Time for the groups that made all the popular hits, this years seventeen won 2 awards,  'Worldwide fans choice top 10' and ' best dance performance male group'.
Just as important 17 other awards were given out on 'MAMA' Night. Here is the list of your favorites starting the list with boy group treasure winning 'Worldwide fans choice top 10', along with Got7, Nct Dream, and Enhypen. Lesserafim won 'Favorite new artist' as well as Nmixx, and Kep1er. K-pop group JO1 won 'Favorite Asian Artist', (G)-Idle won' Favorite girl group', Lim Young Woong wins 'Best male artist', Nayeon from girl group Twice wins 'Best female artist', Bigbang wins 'Best Vocal Performance Group', Taeyeon from girl group Girls Generation wins 'Best Vocal Performance Solo', Melo Mance wins 'Best OST', Min HeeJin wins 'Breakout producer', Zico wins 'Global Music Trend Leader' and last but not least Jaurim A Korean rock band takes home the award for 'Inspiring Achievement'!