Roaming Reporter: Runge Conservation Center
I visited Runge Nature Center in town over the summer, and I was decently impressed by the variety of exhibits and activities they had to offer. The staff was all knowledgeable and friendly, and they were more than happy to answer any questions about the additional sights and activities that were included at the location. One of the highlights of my visit was the open glass area where you can look at birds from the inside so they aren't bothered by your viewing. I also took note of the interactive displays with information on the different species of animals that can be found around the center and in Missouri. There is even a giant fish tank! With small native species of fish in the state The nature center offers a variety of educational programs and nature-themed workshops for younger children which would be good for future visits with my younger siblings.
Outside there are many trails paved or with mulch that can be walked totaling around 2.5 miles which isn't overly extensive making it doable for most visitors. Many of the trails that can be found around the center are paved and marked making them easy to navigate, and some are even wheelchair accessible offering the experience to a wider variety of visitors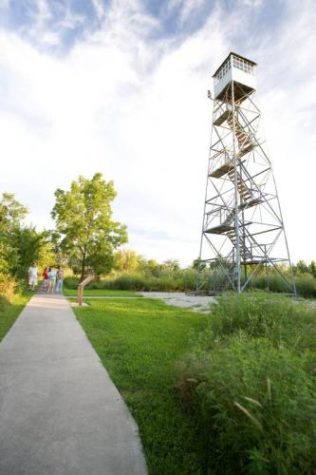 .  Closer to the exit there is a 60-foot watch tower that can be climbed and upon reaching the top you can gaze down and take in the solid view of the season whichever it may be. Additionally, during the summer they have guided tours and explanations of different species of both plants and animals that can be found statewide which is very informative and provides insight into wildlife everywhere.
The overall experience of the Runge nature center is about a 7/10 it offers a solid amount of lowkey activities to participate in, the experience itself is geared towards a younger audience but for the trails and nature it still provides some smooth outdoor entertainment.