5 Best Things About Being a Cook at a Retirement Home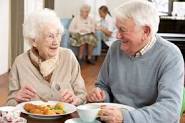 I have worked at a retirement home for over a year and a half and have loved the experience. It has been an extremely rewarding experience and I would heavily recommend, so here are some pros.
You Get To Talk To People
You can socialize with elders almost every day. You can get to know the people in the retirement home and learn their hobbies. Might even make a couple of friends. Most elders are friendly and will welcome new people with open arms at all times. If you lack social skills the elders won't bother you. 
You Get To Make Delicious Food
The food that is made for elders and retired people can either be breakfast all day or the house special. Elders can order breakfast all day if they do not like the house special. The house special gives many nutrients that helps the body develop more and shut down slower. 
Living Close By
I live close to the retirement home. So I am able to walk there if I so choose. I don't have to waste gas on the way over there. I can walk there and walk back at ease without having to worry about anything. If my car is out of gas or I don't want to drive I can get some cardio in and get there within 30 minutes.
It's Easy
It is very easy to make food. They make it simple, the instructions are hung over us like it is the last thing our manager can do. The food we make doesn't take long either. Usually only taking a few minutes to make.
Signing Out
Leaving is very simple. Once my shift is over I head home either taking my car or I walk depending on the day. Sometimes I might even stop at a gas station and grab something to eat. At our retirement home sometimes they give us food to eat so we don't have to deal with grabbing things.