Backpacking: A Camping Adventure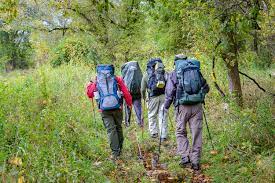 Backpacking is an activity that involves hiking and camping in remote areas with a backpack that contains all the necessary supplies. It is a thrilling adventure for nature lovers who want to explore the wilderness and disconnect from the hustle and bustle of city life.
Backpacking has gained popularity over the years, with more and more people seeking to escape the monotony of their daily routines. It presents an opportunity to discover new places, meet new people, and challenge oneself physically and mentally.
However, backpacking requires proper planning and preparation to ensure a safe and enjoyable experience. Hikers must research the trail they intend to follow, pack essential items such as a first aid kit, water, and food, and dress appropriately for the weather.
Additionally, it is crucial to respect the environment and follow Leave No Trace principles, which involve leaving the trail and campsite as you found them and minimizing your impact on the ecosystem.
Backpacking is an adventure that can be enjoyed by people of all ages and fitness levels. It offers a chance to disconnect from technology and reconnect with nature, creating a sense of tranquility and mindfulness that is hard to find in our fast-paced world.
So, if you are looking for a thrilling adventure that will challenge you and give you a new perspective on life, why not try backpacking?