"It takes a great deal of bravery to stand up to your enemies, but a great deal more to stand up to your friends." – Albus Dumbledore (Harry Potter and the Sorcerer's Stone)
---
---
Movie

Summary

:

Harry Potter and the Sorcerer's Stone is the movie made after the book where the main character, Harry Potter, is delivered a letter saying he was invited to attend the magical wizardry school, Hogwarts. That being said, Harry along with his friends Ron and Hermione find out there's an extremely powerful wizard with his minions who are looking for the Sorcerer's Stone, which would make him and his minions extremely powerful and immortal.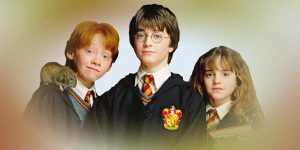 ---
---
My honest opinion of this movie is a solid 4/5, here's the pros and cons.
Pros

: 
This movie sparks a lot of nostalgia and joy for me, as I watched a lot of Harry Potter movies when I was younger.
The main characters, Harry, Ron, and Hermione were very nicely played by their actors in this movie and have great chemistry. Their acting and parts in this movie just sucked me in and were just overall very lively! Harry is the focal point of the entire story of course, with Hermoine being the intelligent part of the group, then Ron typically being the comedic relief for the audience to enjoy.
J.K. Rowling honestly did a great job bringing the entire magical world together, and made Hogwarts so imaginative and bringing things to life. Experiencing the world of Wizards feels so mysterious, fulfilling, and amusing.
I personally think the movie is a very good reenactment of the book. Bringing your imagination onto the screen changes things, and it's exciting to see the world J.K. Rowling actually created for people to see!
The story itself throughout the movie is played out very well. I loved everything that led up to the stone, and what Harry, Ron, and Hermoine had to go through to get to it. They basically had to go through a magical escape room and many challenging obstacles.
---
---
Cons:
Something that bothered me was just how easily convenient everything was for Harry Potter. Such as his survival, having a really smart friend to get him and his group out of ANY situation, somehow getting his hands on the invisibility cloak, and getting the fastest broom. Yes, there are problems thrown at him throughout the movie, but he just so happens to have amazing luck and gets past things a little too easily. Felt a bit like lazy writing occurred.
Hogwarts was always a little too dangerous. It was a good school and all, but everything that happened there just felt like the teachers and staff didn't have much concern for the students and whatnot. There were aggressive trolls in the same building as the students, unpredictable stairs that moved at any time and could cause injuries to students, and the staff had outrageous punishments that seemed way overboard.
I feel like the relationship and story between Harry and Voldemort simply needed MORE. The movie had its climax, but things were still very unclear as to what had actually happened and WHY. While more was explained in the later Harry Potter movies, it would have been nice to have at least a little more explanation in The Sorcerer's Stone to make things more understandable.
---
---