Introduction
The cold winter months have arrived, and Missouri's flora and fauna are experiencing new activity from the decrease in temperature. The leaves will change, flowers will bloom, it's time to get outside and explore what fall has to offer.
Flowers and Trees
One of the flowers that bloom during the fall months is the Downy Gentian. Its striking blue and purple shades make this flower stand out among the brush through the months of September-November. This perennial wildflower grows in clusters of individual flowers and is a part of the Gentianaceae (gentians) family. You can find the Gentian flower in upland prairies, savannas, and glades.
Another prairie flower that blooms in Missouri is the Autumn Sneezeweed. The perennial flower blooms in August through November. Its family, the Asteraceae, which are sunflowers, bloom a beautiful shade of yellow which contrasts with the brown and red fall colors. This fall flower grows up to six feet tall. You can find the wildflower on banks of water sources, such as streams, rivers, lakes, marshes, and can also be found near moist open disturbed areas such as pastures, ditches, and railroads.
Missouri's Maples bloom during mid-October. Their leaves glow to a bright yellow, orange and red. There are about 115 species of maples in Missouri. Some common examples include the Sugar maple, the Red maple, the Silver maple, the Ash-Leaved maple, and the Amur maple. These maples either grow as trees or bushes and sometimes with flowers. These trees are what give Missouri's forests that autumn glow. 
Spiders and Insects
Most commonly found in gardens and grasslands, the Black-and-Yellow Garden Spider, is black with neon yellow spots and tints of gray on the head. They eat a variety of insects, and when caught, shake their webs to insure their capture. This common spider hatches in spring and after mating only once, the female spiders can lay about 4 egg cases(1,000 eggs in each case) in nearby plants. After making the egg, the spiders create new webs and live their very short lives. As fall comes around and the temperatures cool off, the spiders die in the first frosts of Winter. 
These popular butterflies are found statewide and migrate to Mexico during the Winter. Monarchs have beautiful orange and black wings with white poke-a-dots on their body and on the outer-rims of its wings. They are found almost everywhere, from grasslands to suburban plants. When these butterflies are mere larvae, they feed on a variety of milkweeds which have declined in population throughout Missouri. When grown, this ionic butterfly will feed on the nectar of New England aster and other similar flowers. Although this insect is toxic, they play an important role in the animal food chain and can help pollinate Missouri's wildflowers. 
Migration of Birds
It's that time of the year for birds to migrate to warmer places or even to colder ones. One of these birds is the Northern Shoveler. Part of the Anatidae(ducks, geese, swans) family, these birds are long migrants who travel in small groups throughout central and western parts of America. They can be commonly found statewide during migration season and be swimming in marshes, ponds, lakes, anywhere with water and vegetation. For food they forage in shallow waters, looking for invertebrates like clams and worms or they can look on the surface for other plants. Some other names they are called are "spoonbill" and "mud-sucker," as they use their bill in water to dig up food.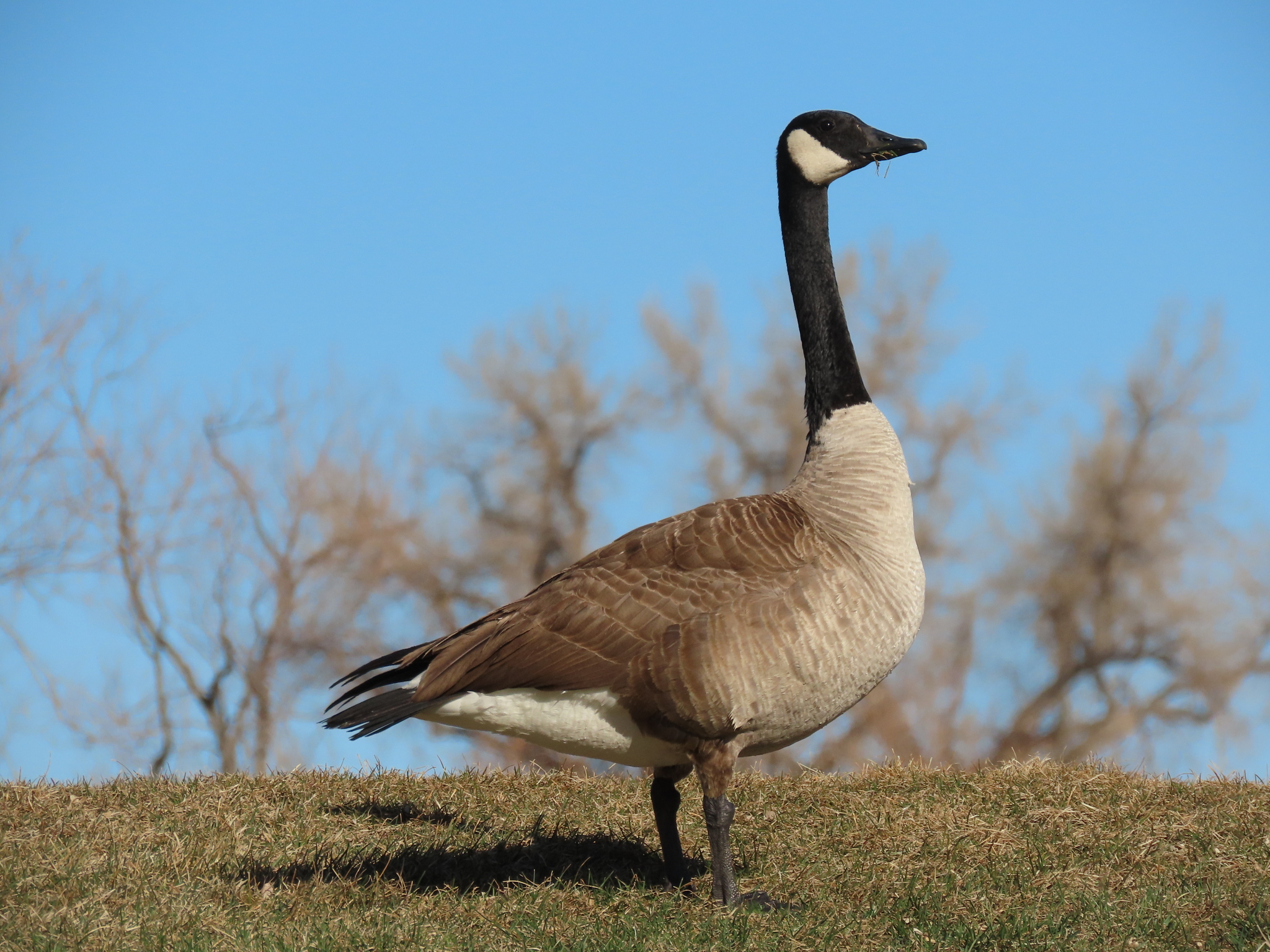 Another common migrant and part of the Anatidae family is the Canadian Goose. These birds can be found statewide and are winter residents throughout Missouri. They live around pools of water such as lakes and marshes, and are commonly found in big grassy areas with a body of water next to it such as the Fairgrounds Park. They can feed either on vegetation such as plants and seeds or aquatic organisms and insects. During the fall months, seeds become important food sources such as corn and wheat. Fun Fact: A Canadian goose can live to be thirty-three years old. 
Mammals and Mischief
Squirrels are very common throughout Missouri. You can see it now: their bushy tails fling towards the sky as they run across your backyard fence in search of acorns. These makers of mischief are often getting themselves into battles with your bird feeder. Although they are mostly commonly known for storing acorns, squirrels can eat a variety of food such as nuts, fruits, field corn, insects, and sometimes eggs. Squirrels often hide their food throughout the warmer months, then when the colder months come around, they find all their hiding places again, which is largely luck as they usually look in all the hiding places they can find surrounding their nest. The two main types of squirrels are the Eastern Gray Squirrel(gray) and the Eastern Fox Squirrel(reddish). 
Hunting season has just begun as deer start to look for mates to give birth in the next spring. The White-Tailed Deer can be found statewide in woods and grasslands, hiding from predators with their coats bending into the twigs and branches. Deers can eat leaves, twigs, fruits, fungi, farm crops, and sometimes snails and fish. The peak of the mating season is in November as does go out to find mates and usually become pregnant during the first half of the month. Similar species to deers are Elk, which were declining in population until the MDC reintroduced a new group in south-central Missouri in 2011. 
Other Sources: