Recap: CCHS Homecoming 2020
Cavaliers celebrate school's second Homecoming
High school in 2020 looks a lot different. Be it desk sanitation, mask mandations, to the looming threat of contact tracing. To now, Homecoming, and the inability to hold traditional events including an in-person school dance.
The JCSD Fall 2020 School Re-Entry Plan outlines that, "In-school gatherings such as assemblies, rallies, school parties, dances etc. will not be held unless social distance can be maintained and students can remain with limited small groups." 
Jayla Anderson, when interviewed stated, "It sucks that we didn't have a dance. There is always so much anticipation surrounding the dance, dresses and dates. But, in spite of not having a dance I am grateful for the rest of the week we were given."
Despite homecoming having looked a little different, festivities persisted at Capital City High School.
This past week CCHS celebrated their Homecoming week with daily spirit days. The week started with Class Colors Day; followed by "Dead Tired Tuesday" in which students wore PJs; "Wicked Wednesday" invited students to sport their favorite costume for the day; "Terrifying Twin Thursday" challenged students to find a friend to twin with; and then wrapped up the week with "Flannel Friday."
Additionally, there were various socially distanced Homecoming events after school. These included a movie night, where students gathered in the gym for a showing of the 1993 Halloween classic, Hocus Pocus.
On Wednesday, Student Council hosted a painting party. Approximately 40 students signed up to participate in a painting class with Cindy Schnieders, the owner of ART 101 on Boonville. to create various renditions of a Cavalier inspired Halloween painting.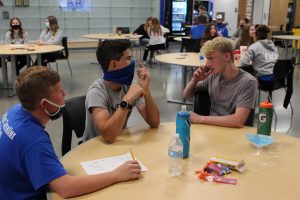 Thursday, the week concluded with a trivia night, in which students formed teams to compete for prizes. The winning team: The Department of Redundancy Department, scored 29 out of the possible 50 points. Brock Schofield, commended his peers and Student Council, "My teammates definitely carried me, we took plenty of educated guesses, but getting to spend time with my friends was the highlight of the night. Taking into account the restrictions they had to work under Student Council stepped up and exceeded my expectations."
To conclude the week on a historic note, Capital City defeated the Kirksville Tigers 13-7 for their inaugural Varsity win in program history.