Starting around 2 years ago, my love for tea and cups sprouted. It began with enjoying tea with a friend, to the urge to collect beautiful tea cups.
For me personally, my love of tea cups happened so randomly. I honestly just think that vintage tea cups are not only beautiful but fun to drink out of! It's almost as if you're having one of your childhood tea parties, but you can actually have one! Not only do I have a large selection of teas to drink, but based on your preference, you can select any one of my tea cups to drink from! (My friends LOVE doing this when they come over! Getting to choose their own tea and cup is fun for them.)
My collection has changed a lot since the beginning. My first cups were actually from my basement. I found a box full of cups, saucers, dinner plates, etc. I didn't know what to think at first, but I knew I was intrigued. I made myself a cup of tea and it felt right somehow. I just liked the feeling of holding something so delicate and beautiful.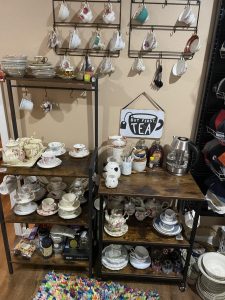 ---
---
---
I tend to get a lot of questions about my strange hobby, considering it's likely never that you see a teenager collecting vintage tea cups; here's what I have to say.
"What's your favorite kind of tea?"
– I really like simple teas. Plain black English teas or floral teas are nice. (Especially with a splash of milk.)
---
"When did you get into tea cup collecting?"
– Around… 2 years ago? I don't have an exact day, but I remember getting into it and collecting stuff in 2021.
---
"What got you into it?"
– I first started liking tea when my friend made me a fresh cup of green tea with loose-leaf tea instead of tea bags. I really enjoyed it and realized, tea was fantastic. Along with what I had said earlier, getting into tea cups started when i found the cups in my basement, which used to be my uncle's I believe is what I was told.
---
"Why did you decide this was a hobby for you?
– I wouldn't say I decided, I just sort of went along with it if that makes sense. As I mentioned before, it just stuck with me and felt right for some reason. Seeing such beautiful cups and drinking nice tea was just a big enjoyment for me and I love making tea for other people as well.
---
"Do you have a favorite tea cup or tea set?"
– Honestly, it's incredibly difficult for me to choose which cup and or set I love the most. I would have to say either the cups my boyfriend got me for my birthday this year or the cup I bought that has my birthday month on it. (With flowers and whatnot around it too.)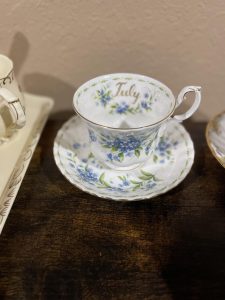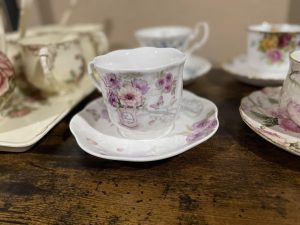 ---
"Where do you buy them?"
– I bought some of my newer things on Amazon, but if I'm looking for vintage things, I buy some of them online. I use websites such as Etsy, eBay, etc. I also went to different Goodwill and vintage/antique stores to look for my cups.
---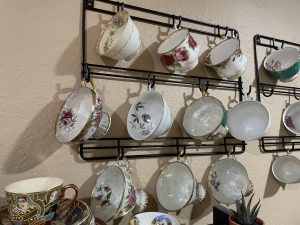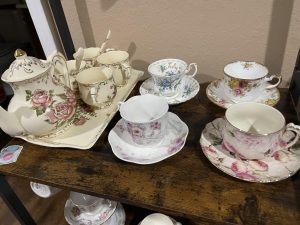 ---
---
---
Do you have any "weird" or fun hobbies? If so, Email me at [email protected], and I can publish a story about you! Thanks for reading.