Drip of the Week: Keeley Clark
A Breakdown of Keely Clark's Outfits Throughout a School Week
Expressing yourself can come in many different forms depending on who you are. Many students at CCHS enjoy expressing themselves through their style of clothes. Keeley Clark is currently a junior at Capital City and is easily one of the most known people for having a very cool and unique sense of fashion. Together we are going to go through what Keeley wears in a week.
---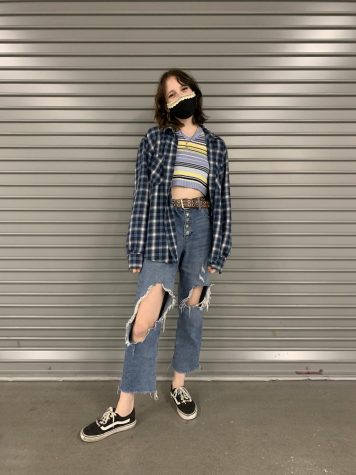 Monday
From head to toe, Keeley is wearing an RBG inspired mask given to her as a gift, a blue flannel she borrowed from her dad, a Toddler's sweater vest as a crop top, a cheap pair of jeans and old vans that she has added beading to make a statement. And to accessorize Keeley added many different mixed-matched earrings, neckless and rings along with a brown belt. Today Keeley wanted to give off the vibe of "Kurt Cobain going to Easter Dinner", as the outfit is a bit dressy with the Toddler's Sweater Vest but still gives off the right amount of an edge with the jewelry, a thrifted belt, and beaded shoelaces.
---

Tuesday
Today Keeley has on a shirt that says, "Hooked on Fishin'," which she got at a vintage store and "had to get because it was just fun and made me smile." Then just basic jeans with her beaded vans and her tons of jewelry. This is much more of a casual look however she did base her outfit on skating culture in the 90s-2000s. "I wanted to look like the boy from the song, "Sk8er Boi" by Avril Lavigne, but their dad really likes fishing."
---

Wednesday
When picking her outfit today, Keeley was inspired by the 90s Riot Grrrl movement, "Something similar to my mom when she was growing up, so a lot of listening to L7 and other Riot bands." To achieve that Keeley layered a sweater over a thrifted, floral dress with platform Dr. Martens and the usual amount of excessive jewelry.
---

Thursday
For the last school day of the week, Keeley is wearing a cardigan over a Smokey the Bear shirt with the usual jeans and beaded vans. To accessorize she has a vintage head scarf and earrings she got while across seas in Greece. The look today was described as a "Cottagecore Dream", an internet aesthetic based on a romanticized idea of farm or rural life.
---
Unfortunately, the week I decided to follow Keeley's style, JCSD cancelled school on Friday meaning she could not have been interviewed. After reviewing Keeley's style the past week there are many constants that she derives her style from; inspiration from Kurt Cobain, excessive jewelry, and a constant desire to say something with what she wears. She also is very conscious on where she gets her clothes for both environmental reasons and personal style, "It (Thrifting and Vintage Shopping) helps the environment in a lot of ways as I'm reducing my carbon footprint and not taking part in fast fashion as much. Also, you can get unique clothes that you won't see as often on other people so you have some real statement pieces."
Leave a Comment
About the Contributor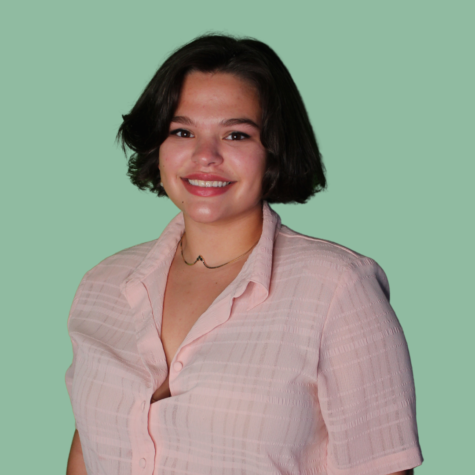 Katelyn Smith, Plume Staff
Katelyn Smith is a current senior at Capital City High School and is the President of the Gardening Club along with being an active member of NHS and the...