Soph's Opinion: Books to Read For the Month of April!
Sophie's top picks in books that she's recently read and has enjoyed over her spring break!
As many of my close lil' friends and family members know, I've recently become obsessed with reading. Growing up as a little kid, I absolutely loved reading, I would spend every free minute I had reading all of my favorite book series, like Harry Potter and the Hunger Games. As I moved into high school though, it was super (and still is) hard to find time + motivation to read for fun. However, this spring break was pretty chill for me, and I've read some books that I absolutely loved, and gave me a new motivation to keep reading! Most of these books come from Book of the Month club, which my mom subscribed to earlier this year, and we love it!
The Perks of Being a Wallflower- Stephen Chboksy
It Ends with Us- Colleen Hoover 
The Push- Ashley Audrain
Reckless Girls- Rachel Hawkins
The Perks of Being a Wallflower: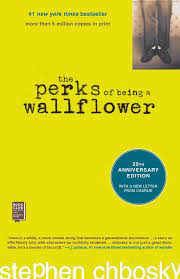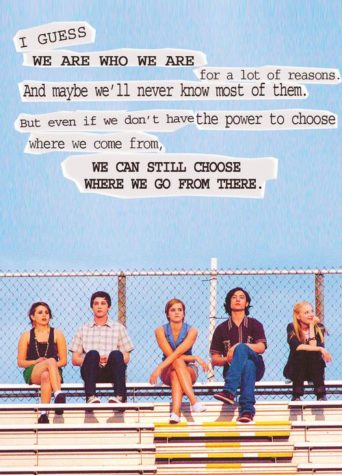 Oh my lord have mercy… I love this book. With all of my heart and soul. With every fiber of my being. I'm being a little extreme but it's only because I want you to know, how special this book is to me. I've read The Perks of Being a Wallflower before I think in middle school, and I remember loving it then. After reading it now though, I have such a renewed amount of love for such a small little book. I even annotated it and left sticky notes and highlighter marks and hearts and bookmarks for all of the sentences and quotes that I love (which was pretty much all of the book), and I have a baby emotional attachment to my own little copy now. The Perks of Being a Wallflower is about a small boy named Charlie, who writes to us readers in a series of letters about his life. Charlie meets his best friends Patrick and Sam, and throughout the book the three take on their lil' high school worlds! What is so special about this book, is how sweet and sensitive little Charlie is. Stephen Chbosky does an amazing job of addressing metal health issues that teenagers face such as anxiety, depression, and PTSD through Charlie's character. In addition to readers being able to sympathize and LOVE the sweetest boy, Chbosky also writes about characters that have situations teens can relate to such as characters in the book that struggle with their identity, domestic violence, and relationships. This book ABSOLUTELY crushed me, but it will forever hold the most special place in my heart.
It Ends with Us: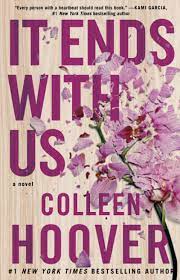 I have been seeing this book ALL OVER my Tik Tok for you page, and I finally caved and read it! I tried for so long to get just one of Colleen Hoover's books at the library, and literally could not because every one that she had was on hold or checked out. So when I found It Ends with Us at Target ON SALE, I couldn't not buy it (I mean I definitely shouldn't of bought it but I have bad spending habits :)) and it was so worth it! It Ends with Us started out a little slow, but once it picks up, it's the kind of little book that makes you read all night until you finish it! It Ends with Us tells the story about a girl named Lily, who struggles with domestic violence issues and abusive relationships all throughout her life. When Lily was little she herself struggled with her parents abusive relationship, but met a boy she fell in love with. As time moves on, Lily struggles with her own relationship, while rediscovering the boy she first fell in love with after he moved. Although this book is kind of slow in the beginning (in my opinion), I really really loved the ending. I think I read this book in like… 3 days.
The Push: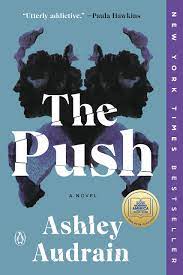 The Push, is one of the books that my mom got from Book of the Month. My mom has kind of only like…. one taste in books and it consists of scary/ mystery. I'm not really into that type of genera, I really like poetry and little books that make me cry for a few days straight. However, I tried The Push, and kind of enjoyed it! The Push is about a mom, who has a little girl and starts raising her family! However, there's little off things about her daughter that go on and eventually lead to relationship problems and sudden losses in the mom's life. I made it through this book pretty fast! It's definitely different than what I normally read, but it was a cool change of pace to kind of read in a mother's perspective. I wouldn't rant and rave about this book, but it kept my attention and I did have some late nights of me reading to 'finish the chapter I'm on' (the excuse I would use to put off doing the dishes so I could keep reading, hehe).
Reckless Girls: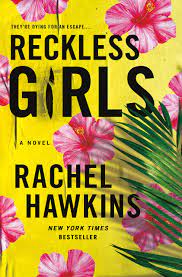 This is another book from Book of the Month club… that's a spooky/ mystery type book. However, this book is super, super good if you liked the show Lost, that was on TV I think in the 200's or 2010's. The story is about a girl who meets this guy Niko, and she 'falls in love with him'. Niko lives in Hawaii, and befriends two girls who wants Niko and his girlfriend to sail them out the a random island. The island kind of has as what can be explained as bad juju, and starts making all of the visitors start to go a lil' crazy. The group have to survive on the island, after being stranded after a few days and running into a guy that gives off bad psycho vibes. I think I liked this book better than The Push, because it reminded me of Lost, and was so similar to it. The ending, is amazing though. WAYYYY better ending than The Push.
---
I hope you can maybe find a little book that you can invest yourself in, I love reading so so much and it makes my brain feel so much bigger! I even like sharing books and poetry as a form of love, and have recommended some of these to my friends and loved ones! (You're especially special if you get my annotated copy… wink wink :)) <3333
la fin (the end).