Ask Calvin
8th Grader's Questions Answered
Starting your freshman year of high school is always nerve-racking. New people, classes, the environment and many more elements add to the initial challenge of moving from middle school to high school. To ease some nerves, a few incoming freshmen have submitted questions about high school to be answered.
General Experience Questions
Q: "Just to help with my nerves, what are some pros and cons of being a high school student? Is there more freedom? Should I be nervous as an upcoming freshman?"
You completely get more freedom being in high school compared to middle school. You choose almost everything about your schedule, classes give you more freedom and there are more choices of things to do such as classes, clubs, sports, etc. Something I really enjoyed about high school compared to middle school, is that summer school can be taken for credit. I think one of the more challenging parts of high school is just balancing everything. The workload is much different than in middle school, but it is not too much of a shock as your teachers know this and are prepared to ease you into it. If you are nervous about the change, keep in mind that you are not alone, everyone was a freshman in high school once and people understand that you are one.
Q: "What is something we should be prepared about for going in as freshmen?"
One thing not a lot of freshmen think about when going into their freshman year is that the grades you get this year are going to affect you all the way until college. Many people regret not caring and slacking off their freshman year, then later on in their high school career their GPA suffers because of it. It is much easier to get high grades taking freshman year than your Junior/Senior year to get high grades to fix your GPA.
Schedule Questions
Q: "What happens if I get only 23 or 24 credits?"
In order to obtain your Diploma, it is required that a student has a minimum of 25 credits. You can find below the amount of credits required in each department for your diploma. If you believe that you would be unable to obtain the correct amount of credits with a regular school schedule there are a few options. You could take Summer School, this allows you to take two half-credit classes that normally would take you a semester to complete. Most people chose to take their Physical Education, Health, Driver's Ed., and Personal Finance credits during the summer. If summer school isn't enough for you to gain the necessary credits, you should contact your counselor wherever you are in High School to discuss different programs such as Credit Recovery.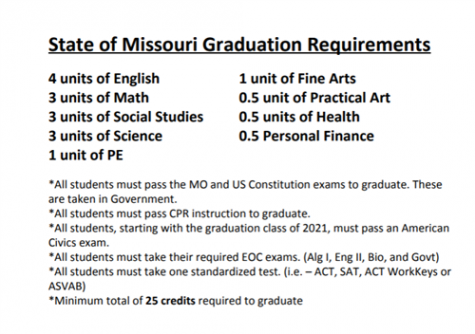 Course Questions
Q: "What's the hardest class in most student's opinions out of all 4 years?"
This question cannot be fully answered due to the fact that no one at Capital City has experienced a Senior Level Class yet, however, many Juniors and Sophomores could probably answer that question unanimously. Advanced Placement (AP) Classes are generally the hardest level courses because College Credit could be earned. In the realm of AP Classes, AP United States History, or more commonly referred to as APUSH, is one of the hardest AP class offered. Many students who take that class say that it is extremely challenging however it prepares you for any other AP class you will take.
Q: "What types of science do we learn about in Bio-Med?"
In BioMed, you learn the basics of Biology while touching bases in the Medical Field. A large portion of the class is investigating the reason behind a fictional person's death by learning about the different body systems. Many find that this class really helps whenever Biology is taken during Sophomore year. Most of the concepts are similar and easily set the stage for success in both Honors and regular Biology.
Club Questions
Q: "What clubs will be available?"
Clubs are created all the time at CCHS, so it is hard to keep track of all that are formed throughout the year. The best way to look out for upcoming clubs or events is to stay up to date with a monthly newsletter sent out through email. The Newsletter is called the Cavalier Connection and is sent out by one of the assistant principals, Mrs. Vallandingham. Most clubs will announce their first meetings of the year through it. If there is a club that you wish to be a part of that doesn't exist yet, there is always the option of starting one yourself.
Q: "Is starting your own clubs possible?"
Absolutely, starting a club is possible for any student at CCHS. In order to do so, you will need to have a teacher to sponsor the club, fill out a form provided (see Mr. Miriani or Ms. Aspey) and obtain 20 student signatures. If you are concerned about not obtaining enough signatures, this requirement is quite loose and according to one of the STUCO Advisors, Ms. Aspey, "As long as there are enough students interested to justify having a teacher sponsor, the club could be created."