Soph's Opinion: Three Story Coffee's New Summer Drinks
What's the story with Three Story's blackberry lavender syrup return?
Three Story has a new treat coming for coffee and lemonade lovers, and it includes summer vibes. Three Story is now releasing its blackberry lavender syrups! On the Three Story Instagram page, the local coffee shop was debuting its return of the loved blackberry and lavender infused drinks. A few of the drinks being brought back for the wave of summer includes the blackberry lavender lemonade, the original nitro cold brew, and the blackberry lavender cold brew latte. According to the Instagram page, Three Story makes their sauces and syrups in-house with a few simple ingredients. (It really makes me uncomfortable that Three Story has sauces, I mean this is a coffee shop, not spaghettitown. No sauces in my coffee, please.)
When I used to have TikTok, I used to watch a TikToker, Brittani Lancaster who was a super loving and body positive advocate. Brittani would film what she would eat each day recovering from her eating disorder, and would always manage to have an iced lavender coffee. Brittani would describe these coffees as so magnificent and beautiful, and said it was one of her favorite drinks to enjoy. I always loved watching Brittani when I had the app, and when I saw one of my favorite local coffee shops was featuring their lavender syrup, I knew I had to try it. I was kind of nervous for the blackberry being infused with the lavender, but I trusted Three Story with all of my coffee hopes and dreams. I didn't end up trying the nitro cold brew, because I really wanted to spend my hard-earned hot cash on some new syrups.
---
One of the main drinks featured for the summer menu, was the blackberry lavender lemonade. I originally was going to try the lemonade for this article, but when I got to Three Story and got my blackberry lavender cold brew, I had no motivation to get the lemonade. It was 8:30 in the morning and I was with one of my close friends, Katie. We planned on meeting at Three Story in the morning before going to the Southside Market on Dunklin Street to go look at some vintage booths. It was a wonderful little morning, but I just wasn't in the mood for a sweet lemonade at 8:30 after rolling out of bed. I'M SO SORRY! However, I can assume that based off of my coffee experience, this lemonade would be perfect for a hot, summer day. Normally I am not a lemonade lover, but based off of Three Story's picture of the lemonade, it looks amazing and refreshing.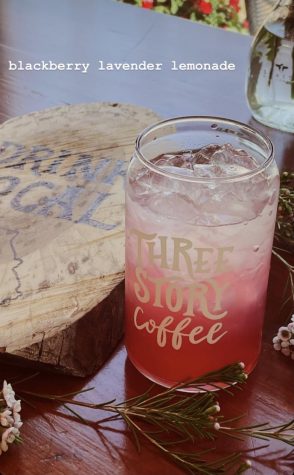 Blackberry Lavender Cold Brew Latte
As I've said in my other article primarily about coffee, linked down below :)))), Three Story has been one of my favorite places to get coffee from that is local, but sometimes their coffees can have some bitter or sour aftertastes. The cold brew latte was made by the sweetest girl who worked there, and she was very nice to Katie and me. Just because of her nice smileyness, this coffee gets extra brownie points to start off. This coffee all the way through surprised me, and to be honest, I didn't really have a definite opinion about it. The cold brew wasn't too sweet, but did have a hint of sweetness from the syrup. The syrup itself, was definitely different for me. Sometimes when I would sip my cold brew I would love it, and could taste the lavender and blackberry perfectly. However, sometimes when I would sip my drink I just wanted to grab Katie's car and crash it into a guard rail because it was kind of bitter and sour and the flavors just muddled together. In my opinion, the blackberry definitely shined through the most in terms of flavor. I love everything lavender, so I was a little disappointed when I didn't necessarily choke on the flavor of it in the cold brew. The blackberry overruling the lavender wasn't my favorite, but I applaud Three Story for introducing their summer drink for us that's a little different, instead of giving us the same old same old, like Starbucks. I would definitely go try this drink out for yourself! Even though I was a little disappointed, I still found myself carrying it around on our little trip, and I enjoyed the majority of trying the summer drink!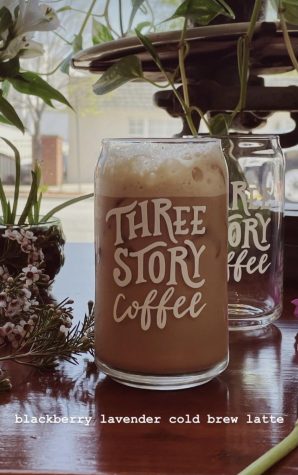 Thanks for tuning into Soph's Opinion, I hope you can go try the newest addition to the summer menu and enjoy the caffeine rush just as much as I did!
Check out my previous article about the Best Vanilla Lattes in town!