Soph's Opinion: Where's the Best Vanilla Latte Located?
Soph hunts for the best iced vanilla latte in the small town of Jeff City
In this feature of Soph's Opinion, we are talking all about where the best Vanilla Iced Latte in Jeff City is located. I would classify myself as a coffee enthusiast, and I think one of my favorite things in the world is a good iced coffee and a beautiful coffee shop location. I'm here to tell you the best coffee houses you should seek out, and others that deserve a hard pass. Let's dive in!
Vanilla Iced Nirvana- Dunn Bros
Three Story Coffee- Millbottom Area 
High Rise Bakery
Starbucks
Scooter's Coffee
Three Story Coffee- Dunklin Street 
Madagascar Vanilla Cream Cold Brew- Panera Bread 
1. Vanilla Iced Nirvana- Dunn Bros 
A Vanilla Iced Nirvana is ranked number one on the list, and this coffee starts us out strong. This coffee is probably the best one I could find in Jefferson City, and has its own flairs in flavor. A Vanilla Iced Nirvana is not a classic iced vanilla latte, but is Dunn Brothers cold pressed cold brew, vanilla syrup, and is paired with half and half. This coffee is a gorgeous color, and has a nice, strong coffee taste, while also giving a rich vanilla taste. Although this coffee is kind of expensive for even a small size, the quality of coffee makes up for the expensiveness in my opinion. I would rather pay more for expensive coffee that tastes amazing, than pay less for a bad coffee. Dunn Bros is a cute little location, it's on Edgewood. While the shop at the moment does not offer indoors seating and ordering (COVID procedures), the baristas are always very nice when you order from the drive through. Side note: Dunn Bros also has colored straws, which, of course, makes every coffee taste 5,000x better. My only tip, especially in regards to the morning rush: arrive early. The line can get long and it can be a little bit of a wait to receive your coffee.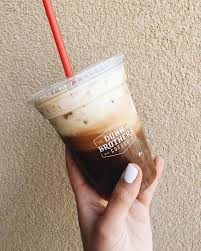 2. Three Story Coffee- Millbottom location 
I loved this coffee. It got me through my very stressful morning in which I forgot that I had a practice in the morning, slept through my coach texting me (again, I'm so sorry, Josh), forgot I had a math quiz and am now going to fail (sorry, mom) and was exhausted after a 4 hour cheer practice. The location was easy to find and wasn't crowded at all, and the barista was very nice to me, which gives this coffee extra brownie points. Millbottom is a really cute location; it's really homey and warm. There's lots of cute merch like stickers, shirts, and cups. They had soft Harry Styles (husband) music playing, which made everything 1000x better and gave off a nice coffee house vibe. The coffee itself was great! There was a nice coffee to ice ratio, and it was a nice vanilla milky flavor without too much of the vanilla syrup or not enough. I would say however, that this wasn't the strongest coffee, but it was still super good. The size is nice and is relatively cheap, with only 4 dollars for lattes and an extra 50 cents for a flavor. I was a little disappointed they didn't have any different types of milk except soy, almond milk and 2 %, because I love a good oat milk latte. I will settle for the next best though.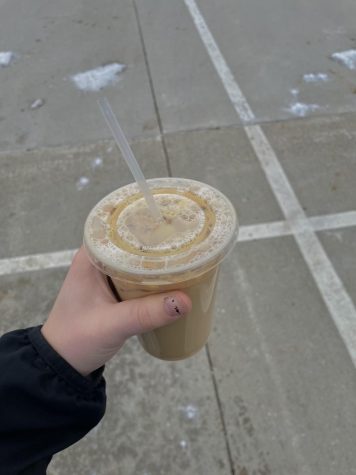 3. High Rise Bakery 
I recently heard about High Rise in September, when fellow CCHS student, Olivia Taylor, who is also a coffee enthusiast, referenced the best places to get coffee on her Instagram Story. I decided trying it out to see if it was worth the hype, and it definitely is. The coffee shop itself is located downtown on High Street, which can be extremely stressful to get to in the early mornings when everyone is trying to commute. However, the outside of the building has a beautiful 'coffee' aesthetic to it, with some tables and chairs for you to sit at to enjoy your coffee and breakfast at. The inside has a minimalist vibe, and space to wait prior to ordering. There is also a large menu that features tasty food and of course, the bakery case. This iced vanilla latte itself is so gorgeous in color and taste. The coffee is strong and very smooth, and features enough milk and syrup to make the drink absolutely perfect in color and taste. HRB offers lots of options including matcha, which my friend, Shelby, rated a solid 8/10 when we went together. The baristas are always very nice, and are always dressed very cute, which gives the coffee extra brownie points. The reason HRB's coffee is listed somewhat lower, is because it's one of the most expensive coffees I've found from all of my research. The coffee price is okay compared to the quality of the caffeine, but I wish they would offer bigger sizes so I would feel better when I pay my bill. However, HRB will always live in my heart, and I reminisce over football season and summer when I drink this coffee.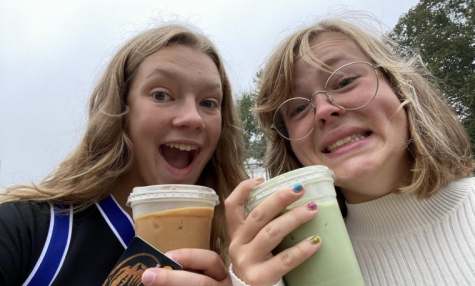 4. Starbucks
I know what you're thinking: SOPHIA STARBUCKS SUCKS!!! IT ISN'T REAL COFFEE AND THIS SHOULD BE RANKED LAST!!! And I would agree with this statement to a degree, until I order a vanilla iced latte with OAT MILK. Starbucks has always been good at giving lots of options of different milks, ranging from soy to oat. Their oat milk is so fire. I literally love this drink with all of my heart. Granted, it's not very coffee tasting, but the oat milk is so good paired with vanilla syrup and their coffee. My sister and I would make a Thursday morning coffee run every week during the summer. This drink has a special little place in my heart, because its one of my favorite activities to do with her; to go get our monster coffees and blast the radio every Thursday morning. Starbuck's Vanilla Iced Lattes (with oat milk) are relatively cheap, comparing the price to the quantity. I love the sizes offered, because I can pay for a HUGE coffee while still getting a drink that is pretty good!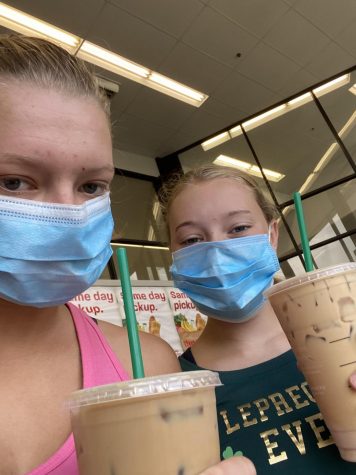 5. Scooter's Coffee 
Let me just say my major consensus: Scoot's is kind of mediocre. It's not in the best spot, (it's on the Missouri Boulevard which is stressful and crazy in the mornings during commuting hours). the line is always super long and is wrapped around weird, and the coffee isn't that good. The coffee drink in itself is okay, there's a nice milk: vanilla: syrup-coffee ratio, but it just doesn't do it for me. Sometimes I crave Scoots, but sometimes I would much rather go somewhere else. Not only is it kind of expensive and the coffee isn't that strong, but in all the times I've been there, the experience is stressful. At least they have a cute little sticker on the side of the cup they give you with a smiley face, but that just doesn't make up for the mediocrity. That being said, Scoot's Redbull Refreshers go HAM. One of my best friends Zoe, recommends the refresher with raspberry syrup.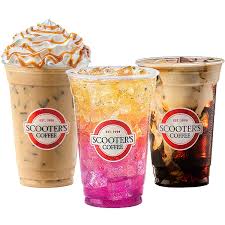 6. Three Story Coffee- Dunklin Street
Three Story on Dunklin, is a very sentimental place to me in general. This coffee shop is the first coffee house I found my love for coffee. It was relatively close to Simonsen, and I would walk about a mile from Simonsen to this little coffee house after school. I would get my coffee, and sit there and do homework at the counter waiting for my mom to come pick me up. The coffee was cheap, about 4 dollars which was really affordable for my little 9th grade self, who didn't have a job. There would always be close to no one in the shop, so it was nice and calm and a great environment to do my homework in. Not only did they play amazing music, ranging from oldies like Fleetwood Mac to indie jams, there was the CUTEST barista boy who would always make my coffees and ask me how my days were. The inside is darling, nice grey and blue walls with pictures of coffee farmers that are supported by Three Story, instead of exploited by larger companies. I started getting my friend Shelby to go after school with me, and it became our spot together. The coffee that I remember from ninth grade, was amazing. "Gorg" color, beautiful coffee notes with enough milk and vanilla syrup. However, now when I go, I'm just so let down. The coffee somehow tastes acidic? I've gone a few times to make sure it just wasn't a bad coffee day, but somehow I just keep getting the underlying taste of acidity. This used to be my OG coffee spot, but now I hardly ever go.
Pictured below: BABY Soph and Shelby in 9th grade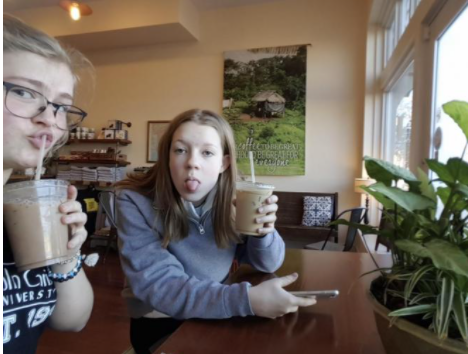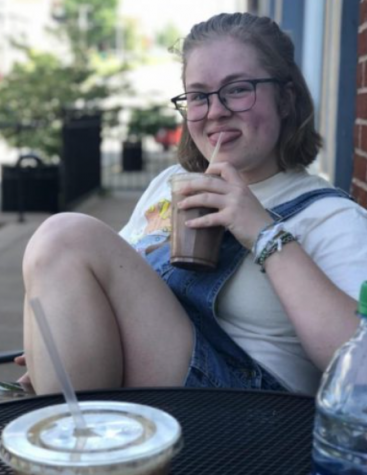 7. Madagascar Vanilla Cream Cold Brew- Panera Bread
No. This is just a hard no from me. I think the only time I've had a good coffee from here is one time this summer, and I went with my mom before I had to go lifeguard. It wasn't too sweet at all, and the vanilla and cream was a good ratio. It was really overcast and by the time I was all good to go and the caffeine hit, I got to go home early from the pool because it was raining. That's the only good experience I've had with this coffee. However, my mom and sister adore this coffee. Every other time I've had this coffee it's incredibly sweet and tastes like you just grabbed a cup of vanilla coffee creamer from a Panera employee and chugged it. I recommend this if you 'LOVE coffee!!'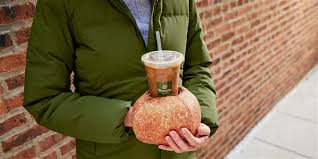 ---
I hope you enjoyed my review of the best iced vanilla latte. I'm glad we got to sit down and reminisce over the sweet taste of caffeine, but also the sweet memories that come with discovering all my favorite places.