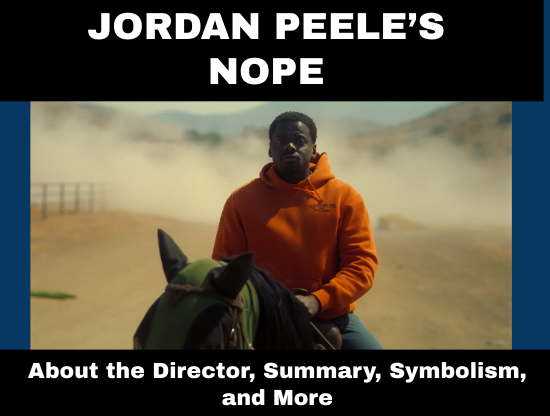 Behind the Director: 
You may have heard of him, comedian, director, and screenwriter, Jordan Peele is a master at suspense, implementing comedy, and addressing racial inequality in his movies. Born in 1979, New York City, NY, Peele is known for starring and writing on the "Key and Peele Show" and his various horror movies such as Us, Candyman, Get Out, and his latest film Nope. He is an important director within the movie industry as he expresses horrifying and symbolic situations his characters find themselves in.
Brief Summary of NOPE: 
Peele's newest movie, NOPE(2022), focuses on the products of a "bad miracle."
The quick conspicuous death of his father, Otis Jr and his sister, Emerald, discover a sinister secret hiding in the skies above their horse ranch, located in sunny California. Jupe, a nearby theme park owner, exploits the secret for his own personal profit. This phenomenon turns OJ's and Emerald's world upside down. As strange things occur, they try and get the impossible shot. 
What makes this movie different from all his other ones?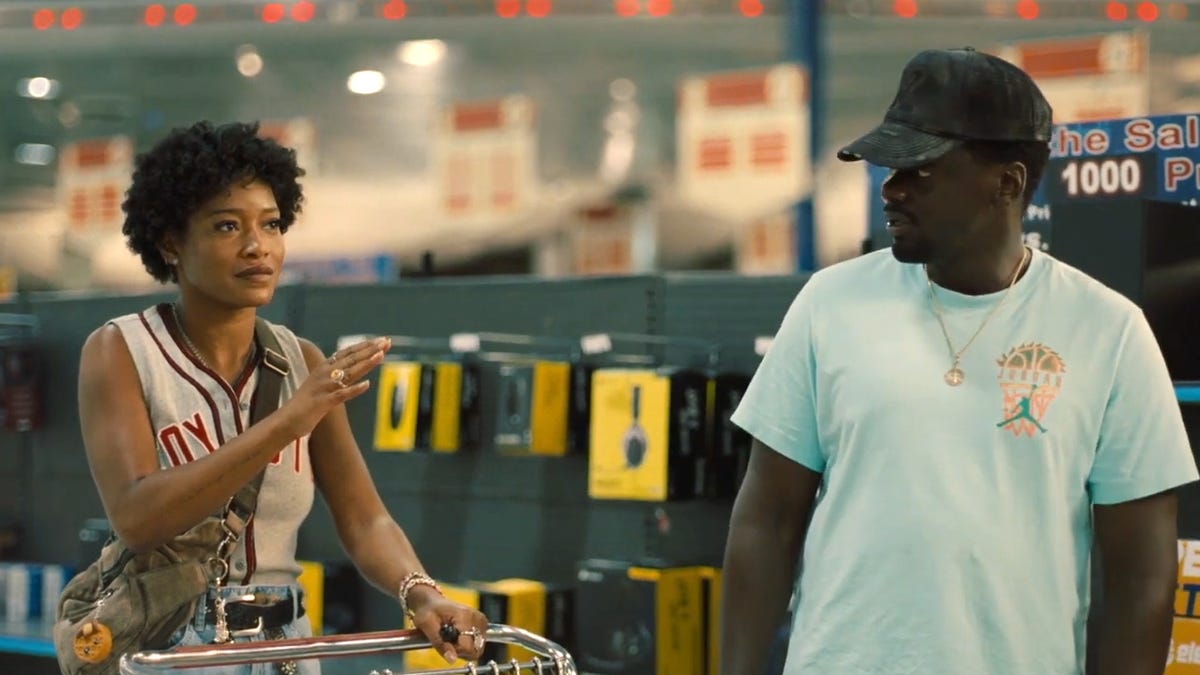 Although all his other movies have some bits of comedy implemented into them, NOPE is by far the funniest. The relationship between OJ and Emerald provides a sibling love that you will protect until the end. Angel is another character in the film who has comedic attributes with Emerald and OJ that reflect into the real world relationships between young adults. 
WARNING: Spoilers Ahead…
How does NOPE talk about taming animals/taking back your life? 
When OJ and Emerald were little, their father got Emerald a horse that she could tame all her own(Jean Jacket). Otis Senior forgets this and takes OJ out to tame Jean Jacket instead. We come across a scene, repeated later on for further evidence, of OJ seeing Emerald from outside the house where they're taming the horse. He points at her with two fingers then points at himself, "I see you."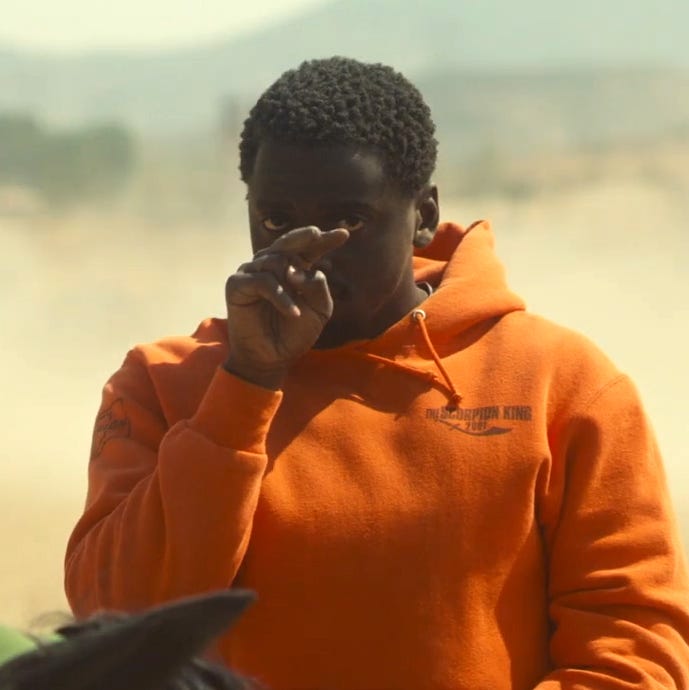 Emerald stays and watches them as they tame her horse. Why did Peele add this to the movie? OJ continued taming Emerald's horse after implying he sees her, so why did he say it? "I see you, I know this is yours, but I'm going to take it anyway." Does OJ want Emerald to learn the hardships of taming an animal or, even a better analogy, tackling life obstacles? As an adult, Emerald is a free-roaded spirit, who has many side-jobs and hustling strategies, while OJ takes over the ranch and increases in responsibility. OJ conveys to Emerald you have to work for what you want, as he continues to tame Jean Jacket, Emerald just stands and watches. 
Taming wild animals is a difficult process, especially if that animal is an alien. 
We get the second scene of OJ's action when OJ and Emerald fight against Jean Jacket(the alien) at the end of the movie. OJ points two fingers to himself, then to Emerald, "I see you, this is your battle." Emerald defeats and captures the impossible shot, taming the creature just as OJ did.
What does Jupe symbolize (and also more taming of animals/life)? 
Our other main character, Ricky "Jupe" Park, symbolizes a fearing tragedy; a predestined life of sorrow and death. As a kid, Jupe played as a young actor on the
"Gordy Show," with a free roaming chimpanzee as Gordy. In the last episode, Gordy turns to his natural violent side and attacks everyone on set. Jupe quickly hides under the table and fearfully watches this occur without moving an inch. This traumatized event leads to Jupe burying what happened to him and projecting his actions to his theme park, trying to rebuild his life. Until… Jupe figures out there is a creature hiding in the sky and he wants to know more, he wants to tame the beast. (Could this be revenge since his bad history with violent animals?) Jupe uses OJ's horses to bait the alien into coming out. He gathers a crowd to witness this 'miracle.'
Why does Jupe say this is a 'miracle,' even though OJ said it was a 'bad miracle?' Jupe has a different view of the way life is presented to him because of his traumatic experiences, he views this as something he can make a profit out of, while OJ views this as a threat to his horse ranch.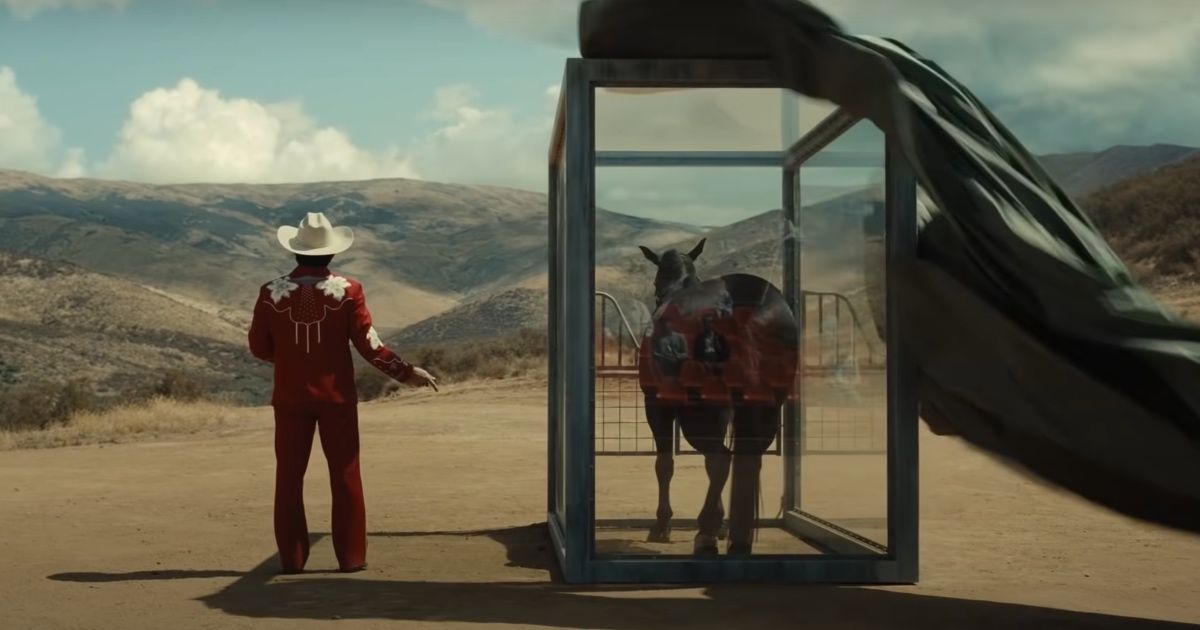 The alien comes out, and eats Jupe, his family, and customers. In a horrifyingly grotesque scene, the alien swallows and digests them whole. In my eyes, this implies that Jupe's life was destined to be a tragedy. 
What is this alien?
Unlike other aliens, who come as short gray big-eyed martians, Peele's alien is something more realistic that ties with the genetics of life on Earth. It moves as if it's in water, its body resembles an aquatic creature as it scurries among the clouds, waiting for the perfect moment to attack its victims. Its final form isn't shown until the final scene. Throughout the movie the alien becomes more and more open for the viewers to see. It opens big and wide, when Emerald and OJ defeats the creature.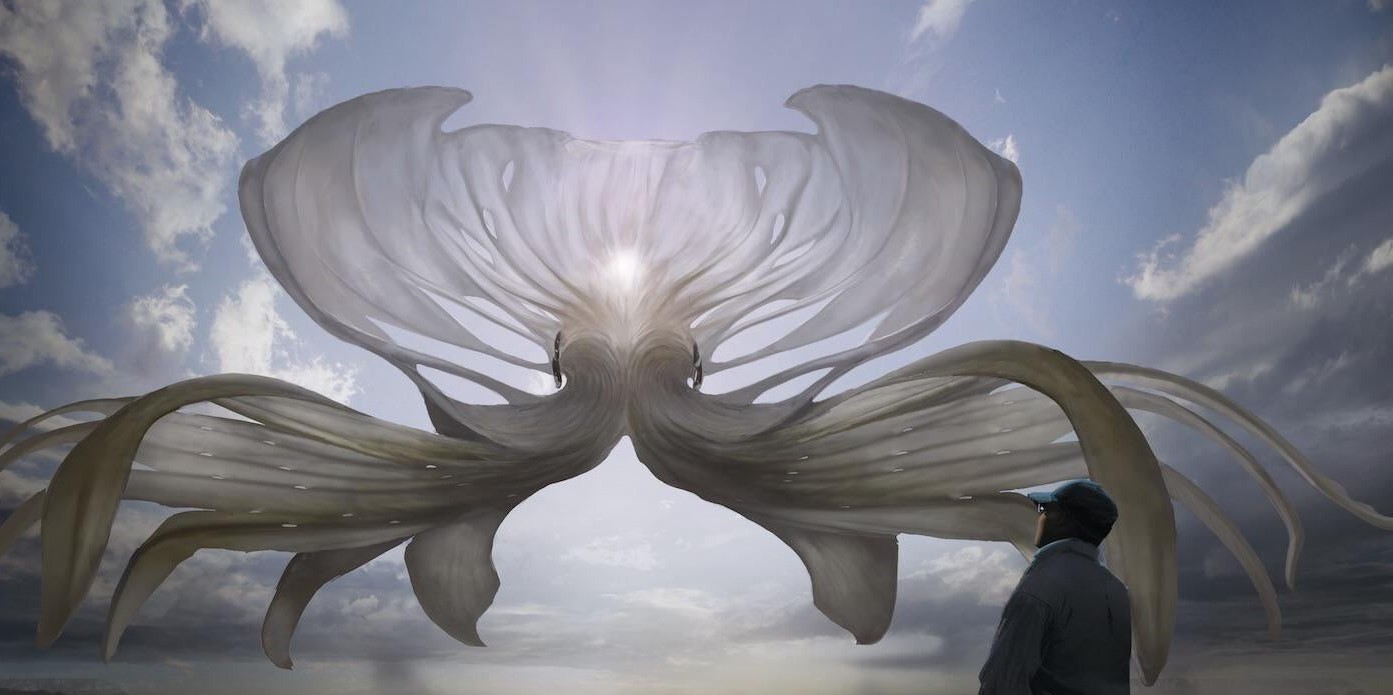 Conclusion
NOPE is one of the best suspense and horror films I have seen in the past few years. Peele does an amazing job making his viewers question what will happen next. It's funny, grotesque, and gives you a fear of the violent nature of things we don't understand. I would recommend this movie to anyone who loves Jordan Peele or horror movies.