Capital City Holiday Showcase
This Saturday Capital City is hosting the second annual Holiday Showcase! Doors open at 6:30 PM and the music will begin at 7 PM. Seating is limited so the earlier you arrive, the better!
The concert itself is open to the public and free of charge! A buffet-style dinner will be held at 5:00 PM, but unfortunately, tickets are sold out. Marinated grilled chicken breast, roast beef, true mashed potatoes and gravy, country-style green beans, tossed salad, fresh rolls, black forest cake, apple crisp, and cinnamon raisin bread pudding will be served. The meal will also be accompanied by the Jazz Band. Vegetarian options will also be available. Next year be sure to look out for when tickets go on sale!
Capital City Band, Orchestra, and Choir will be highlighted throughout the evening. All groups will perform individual and combined pieces. The Choir will perform from the main stairs and the Band and Orchestra will fill in the space at the bottom. Most of the seating will be located on the first floor but there is also birds' eye view seating on the upper floors.
Most Capital City Concerts are located in the gym but by having The Holiday Showcase on the main stairs the acoustics are outstanding. This year should be even better than the last!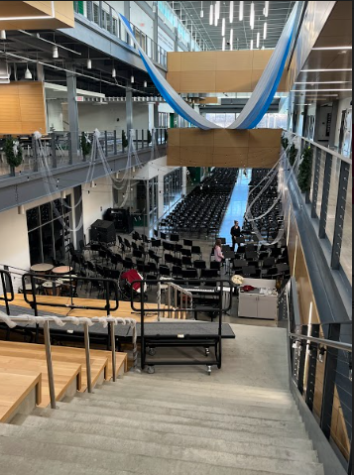 The Holiday Showcase setup for 2021